Post Classifieds
Hard work makes 'Mauritius' a reality
Students ready for spring play following the shorter production time
By David Kepler & Amos Finger
On April 5, 2017
After just a month of preparation, the Kirkwood Community College Performing Arts opened "Mauritius" on April 6. Mauritius is a play about a rare stamp, the two sisters who claim its ownership and others who seek to meddle.
The play is directed by Rick D. Anderson, associate professor of theatre. Anderson has been working with actors/actresses and crew for just over a month on the play.
Austin Carnahan, who plays Sterling, and Claire Kingland, who plays Mary, are both are leads in the play and spoke about how much work and dedication it took to make "Mauritius" a reality.
"What goes into making this play are dedicated people who want to do it. Directors and stage crew and everyone working hard together to make it happen," said Kingland. "You get focused for the day then the director comes and says we're going to do this, this and this. So we do this, this, and this and that's the day."
The play has only been in production for a month before showtime, which according to Carnahan is shorter than most Kirkwood productions. Dress rehearsals began a week and a half before showtime. Carnahan and Kingland both stressed the importance of rehearsal.
Carnahan said, "Once you walk through that door it's [rehearsal] is an actual show and you have to think about it that way."
The actors also stressed the importance of knowing all the aspects of theater on the technical level and how that knowledge helps them become actors.
Kingland said, "They [instructors] really help us by teaching us about several things like technical theater and getting whole rounds about what all of theater is about." Knowing the technical aspects of production help members of the production build camaraderie and respect which helps everything on stage move smoothly, she added.
Carnahan said, "Just getting to know one another is the best part...even with backstage people because without them we really wouldn't have anything."
Acting and production isn't without stresses. Due to the short production time Carnahan and Kingland said many of the actors feel as though they are under some form of pressure.
Carnahan said one stress is what the audience will think of the play. He said he questions, "Am I going to mess up a line? Mess up a part? Is someone going to forget a prop that I need for a certain line?" He added, "There is a lot that could happen."
Although there is a lot of stress preparing for a production, there are many students who share the workload. The work has involved students from both technical and dramatic backgrounds. Full scale production of a play involves Kirkwood students who fulfill roles in theater crew, costumes, acting and lighting.
The title of the play refers to the "Blue Mauritius" stamp. Originating from the Republic of Mauritius, the stamp was issued in the fall of 1847 during the British administration of the small pacific island nation. Five hundred stamps were printed from a single plate and each stamp holds an estimated value of $4 million.
The play was written by Theresa Rebeck who was previously a Pulitzer Prize nominee. "Mauritius" was her play write debut. The premiere was held in Boston at the Boston Center for the Arts' Calderwood Pavilion in 2006. Many of the characters in the play try to out con each other with the hopes of reaping the rewards of possessing the stamps.
Get Top Stories Delivered Weekly
More kirkwoodstudentmedia News Articles
Recent kirkwoodstudentmedia News Articles
Discuss This Article
MOST POPULAR KIRKWOODSTUDENTMEDIA
GET TOP STORIES DELIVERED WEEKLY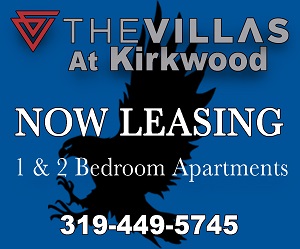 RECENT KIRKWOODSTUDENTMEDIA CLASSIFIEDS
HOUSING

JOBS

FOR SALE

TUTORS
Kirkwood students often admire
Lasik Omaha
doctors that are carving new paths in the field of eye care and transforming the way routine eye procedures are done.