Post Classifieds
Library modifies shelving, groups books according to topic
By Steve Sickels
On October 30, 2017
As you read this, think of how your favorite grocery store is organized but is constantly moving things around and what does that have to do with our library?
Did you know that the Dewey Decimal Classification (DDC) system we use to shelve our print books was developed nearly 150 years ago by librarian Melvil Dewey?
The DDC is a base 10 system that assigns all printed knowledge to one of 10 major categories. These categories were created before the turn of the 20th century. 25 editions later, it encompasses technological, cultural, religious, political, scientific, etc. developments since that time. But if you were to browse the 200s (religion) you might notice that Christianity occupies the first 9 of 10 categories while other world religions are categorized in the remaining category. In 1876 America that was the perspective. It is certainly different now.
Why do we still use it? A full explanation would require addition columns in the Communique at a later time. The short answer is that it is still viable for thousands of libraries our size, especially public libraries for a variety of reasons.
In our library we modify our book shelving to make finding books by grouping them together by topic. Keep in mind that the best book for your topic might be to the left or right of the book you found. We can do this to improve the efficiency of browsing related topics because technology allows us to be more agile in assigning subjects and keywords.
We need to do this because of the speed in which information appears in electronic and print form. In short we can change where books reside very quickly.
What does this do for you the library user? Having an organization system makes it easier to find books but we change it when we think it would help our users to find things more easily.
For example we have created a popular book area to house fiction and graphic novels on the first floor. We have created a special English Language Acquisition collection. In our 2nd floor main circulating collection we have grouped cultural information with its related historical information making it easier for students to find multiple perspectives shelved together. Come in and take a look.
Get Top Stories Delivered Weekly
More kirkwoodstudentmedia News Articles
Recent kirkwoodstudentmedia News Articles
Discuss This Article
MOST POPULAR KIRKWOODSTUDENTMEDIA
GET TOP STORIES DELIVERED WEEKLY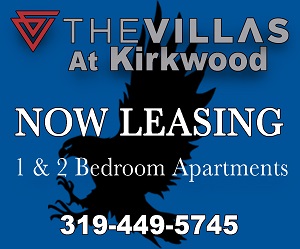 RECENT KIRKWOODSTUDENTMEDIA CLASSIFIEDS
HOUSING

JOBS

FOR SALE

TUTORS
Kirkwood students often admire
Lasik Omaha
doctors that are carving new paths in the field of eye care and transforming the way routine eye procedures are done.