Post Classifieds
Study abroad program provides adventure and opportunities
By Jordan Sanford
On October 31, 2017
Above, one of the many sites students experienced while traveling abroad to Singapore in 2016. Photo by Amanda Enos.
Students looking to blend education with adventure may want to consider one of Kirkwood Community College's upcoming study abroad programs.
The study abroad program for the 2017-2018 school year includes destinations to 18 countries, most of which last one to three weeks. They also offer a few semester-long programs worth 3 - 6 credit hours.
"Studying abroad changed my outlook on life," said Ken Nesbett, study abroad advisor. "I was going to school for secondary education but after going through the study abroad program, I wanted to make sure other students got the same opportunities." he added.
Kirkwood sends more students on study abroad experiences than most other two year colleges. "Kirkwood's study abroad program is rated 4th in the nation," said Nesbett.
Kirkwood's study abroad programs are created by faculty and priced with affordability in mind, according to Nesbett. He said none of them are outsourced and the entire bill goes toward a student's trip.
"When we set these programs up we keep in mind that we are a community college and our students might not have the same funding as those who attend a university or private school," said Nesbett.
He added, "Price is a very important factor when creating new programs. We want to make sure as many students can afford the trip as possible."
Students can use their Financial Aid or student loans to cover the cost if they need to, according to Nesbett.
"Most students are eligible for the Global Advantage Scholarship, which covers around $1,000 of the cost. The remaining fee can be split up into to four installments," said Nesbett.
Each program has between 12 and 15 students and two faculty members. "I would really encourage students to consider studying abroad. Your college years are the best years of your life to get out and see the world. Material things will break or become obsolete but experiences are with you forever," said Nesbett.
Students from any major can gain credit from study abroad programs. Only a few, such as the one tailored to nursing students, are restricted by major. The deadline for most programs is Dec. 15.
To learn more logon to https://kirkwood.studioabroad. com/.
Get Top Stories Delivered Weekly
More kirkwoodstudentmedia News Articles
Recent kirkwoodstudentmedia News Articles
Discuss This Article
MOST POPULAR KIRKWOODSTUDENTMEDIA
GET TOP STORIES DELIVERED WEEKLY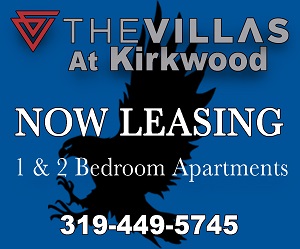 RECENT KIRKWOODSTUDENTMEDIA CLASSIFIEDS
HOUSING

JOBS

FOR SALE

TUTORS
Kirkwood students often admire
Lasik Omaha
doctors that are carving new paths in the field of eye care and transforming the way routine eye procedures are done.