Post Classifieds
Black Friday renders mixed experiences year after year
By Paityn Viall
On November 27, 2017
Many students and their families choose to go shopping on Black Friday to stock up on gifts for the holidays as deals are abundant.
It is also seen as a fun activity for friends and families to participate in together. Some even create their own shopping "teams," complete with t-shirts and other accessories to make the event a fun competition of who can get the best deals.
However, this event can also be very hectic. There are often hundreds if not thousands of people both inside and outside of seemingly each and every store during the days surrounding this annual event.
Many people get pushed around and some have even been seriously injured. There is often little room for people to even stand, let alone actually shop for and purchase items without bumping into others.
In addition, the pressure to take advantage of deals is higher than ever with several stores and companies starting their deals on Thanksgiving night, cutting into the holiday itself.
Companies may be advertising their prices as the best of the year but this is not always the case. Some stores may simply be advertising in a way that will draw crowds in on one of the busiest days of the year and several have been known to limit quantities as well. There might be even better deals waiting later on in the year that won't require bravery amongst crowds of shoppers to squabble over a particular item.
With large amounts of people also comes a perfect opportunity for hackers to attack. There is often a mass hacking situation every year around Black Friday in which thousands of people have their credit card number and other private information stolen. With increasing technology, there are more ways for hackers to reach confidential information than ever before.
To prevent having these issues, staying home surrounded by friends and family is always an option. It's the perfect time of year to remind loved ones of their importance and share some leftovers for lunch instead.
Whether the choice is made to shop on Black Friday or not, it is important to remember basic safety protocols in order to prevent being injured or having information stolen during the holiday season.
Shoppers should always remain cautious when out and about, particularly during this busy time of year.
Get Top Stories Delivered Weekly
More kirkwoodstudentmedia News Articles
Recent kirkwoodstudentmedia News Articles
Discuss This Article
MOST POPULAR KIRKWOODSTUDENTMEDIA
GET TOP STORIES DELIVERED WEEKLY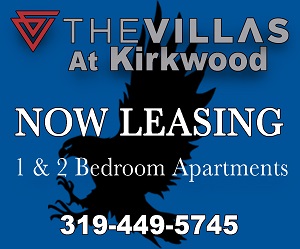 RECENT KIRKWOODSTUDENTMEDIA CLASSIFIEDS
HOUSING

JOBS

FOR SALE

TUTORS
COLLEGE PRESS RELEASES
Kirkwood students often admire
Lasik Omaha
doctors that are carving new paths in the field of eye care and transforming the way routine eye procedures are done.