Post Classifieds
Tenant frustrations over maintenance goes to a public view
By Cassy Plowman
On November 27, 2017
A major advantage to renting over buying a property is that repair needs are the responsibility of the property owner, not the tenant. The following is a true story that started upon gaining access to an apartment near the main campus in August and since then, has included multiple repair requests, denials, frustration and waiting for a resolution to maintenance issues.
It started with the stove burners being bent and worn out to the point that pots would slide off of the stovetop. Then, one night when the thermostat popped off the wall and hit my roommate. Soon after, we determined the heat was not working so a repair request was submitted and subsequently ignored.
To date, the heat is still not working and has been brought to management's attention more than once. However, instead of resolution, we have been forced to invest in electric blankets since the temperatures have dropped drastically.
Heated elements are not the only trouble we've encountered. My roommate came home to find our garbage disposal had sprung a leak. Water was pooling in front of the kitchen sink so to prevent damage to the floor, we had no choice but to use towels to sop up dirty water.
For repairs, students are asked to submit maintenance requests. However, it takes days for those requests to be completed and the sink could not be used at all during that time. After my roommate and I went to the main office to plead our case, we were able to convince management of the immediate repair need.
To round out this saga, the Internet provider the complex contracts with decided to switch to a new port but they did not mention it to tenants and did not give us advance warning. Upon inquiry, the office informed us that it was our responsibility to provide a new router that will be at a cost to us and leave us without Internet for at least one day.
With the semester ending soon, we ordered a router only to discover that the management office posted on social media that routers would be available for us to pick up in the office. The misinformation caused us to unnecessarily spend money.
Because of the multiple problems that were not being addressed in a timely manner we wrote a negative review online. The manager read it and we are now starting to see some of the maintenance issues addressed.
As tenants we are expected to uphold our obligation to pay rent so the apartment complex should also uphold its obligation to provide heat and water, two basic necessities.
Get Top Stories Delivered Weekly
More kirkwoodstudentmedia News Articles
Recent kirkwoodstudentmedia News Articles
Discuss This Article
MOST POPULAR KIRKWOODSTUDENTMEDIA
GET TOP STORIES DELIVERED WEEKLY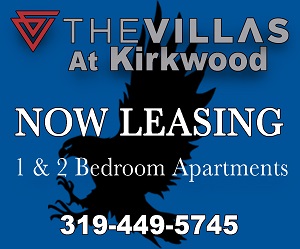 RECENT KIRKWOODSTUDENTMEDIA CLASSIFIEDS
HOUSING

JOBS

FOR SALE

TUTORS
Kirkwood students often admire
Lasik Omaha
doctors that are carving new paths in the field of eye care and transforming the way routine eye procedures are done.