Post Classifieds
PTK event focuses on fake news
By Lizzie Lake
On November 30, 2017

Photo by Lizzie Lake. Students gather around a table in Linn Hall on 
Nov. 9 to participate in an activity to determine whether a news 
article is real or fake. The event was hosted by Phi Theta Kappa.
Don Henley is dead. Dallas cancels Halloween amid Ebola concerns. Doctored photos and stories are everywhere. In today's society, many examples of partially correct or in many cases, completely false information, can be found in all forms of media.
Fake news was the topic for the Honors in Action project by the Alpha Eta Rho chapter of the Phi Theta Kappa International Honor Society at Kirkwood Community College.
Phi Theta Kappa Adviser Sondra Gates said, "Each year, we are assigned two major projects. For Honors in Action, we are given a topic, we research questions and come up with a plan-of-action."
The event was held in the Linn Hall Lobby on Nov. 9 during activity hour. It included an interactive survey that students were encouraged to participate in by reading clips from a variety of articles and determining if the article was real.
In addition to the interactive survey, a pre-recorded debate over the controversial idea of fake news and its definition was projected onto flat screen monitors behind the booth.
Andrew Lammers, president of the Alpha Eta Rho chapter said, "In the spring of 2017 we voted on basing our project around what our rights and responsibilities are when consuming fake news. Over the summer we researched the topic of fake news to find peer reviewed sources. These sources helped us apply the topic to the community on a personal, local and global level. We are now taking what we learned from our research and sharing it with the community through this project."
He added, "The ultimate goal was to try to see what people's rights and abilities are for consuming and/ or distributing fake news. By allowing students to take our survey, it will give us better insight as to what people know and don't know about fake news and how to detect it."
Students who are interested in joining Phi Theta Kappa may do so if they meet the criteria of having earned 12 credits toward a degree at Kirkwood and a minimum GPA of 3.5.
Students interested in more information about the campus chapters can go to http://www.kirkwood.edu/alphaetarho for the main campus and http://www.kirkwood.edu/ptkic for the Beta Lambda Tau chapter at the Iowa City campus.
Get Top Stories Delivered Weekly
More kirkwoodstudentmedia News Articles
Recent kirkwoodstudentmedia News Articles
Discuss This Article
MOST POPULAR KIRKWOODSTUDENTMEDIA
GET TOP STORIES DELIVERED WEEKLY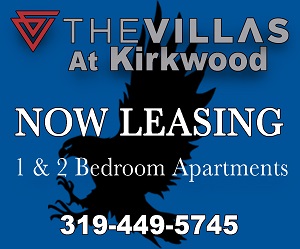 RECENT KIRKWOODSTUDENTMEDIA CLASSIFIEDS
HOUSING

JOBS

FOR SALE

TUTORS
Kirkwood students often admire
Lasik Omaha
doctors that are carving new paths in the field of eye care and transforming the way routine eye procedures are done.