Post Classifieds
Challenge tradition with opportunities
By Staff Editorial
On November 30, 2017
As the descent into the final days of 2017 begins, it is time to once again reflect on the year gone by and prepare for what is to many a fresh start, a chance to start over or the opportunity to try something new.
Some people spend year after year with the mindset that the next trip around the sun is going to be better or different because of events that have happened while others can't believe how fast another full rotation is already coming to an end.
For a significant portion of the world, New Year's Day comes just a week after Christmas and for Americans, barely a month after Thanksgiving with hardly any time to recover from the chaos of the holidays. It seems the expectation is to hit the ground running and power into the new year, ready to tackle goals and resolutions.
Especially for college students, additional pressure added to holidays can seem overwhelming at times.
For anyone, the months leading up to the end of the year could at the very least be referred to as a whirlwind so it is understandable that some may be recounting experiences that are not the most positive in nature.
2017 seemed to be uniquely challenging overall. Many events and outcomes faced in personal lives as well as those faced by our nation and the world have been in the forefront of minds all year long with mass-impacting residual effects, many of which were tragic and disappointing.
It would seem the average person may have a good reason to want to put this year in the past with the quickness of changing the page on a calendar.
But, why focus on just one day to choose to wipe the slate clean, redirect energy, take a leap or even put forth effort to improve daily life when there is opportunity every 24 hours?
There is no argument that life is chalked full of obstacles. Some are rewarding and some are not, yet one thing is certain that at any given time, how one chooses to conduct themselves is in all reality, the only consistency that can be counted on in an age that seems to grow more complicated by the hour.
Changing the date on the calendar should simply be a numeric measure of time along with the reminder of all the chances in a lifetime that exist to make each day count.
Don't wait for something to trigger action. Start making a difference now instead of making meaningless resolutions that in all honesty are unlikely to be kept.
Pledge to make small improvements every day whether it be for oneself or another person, and make the most of every day on this planet.
Get Top Stories Delivered Weekly
More kirkwoodstudentmedia News Articles
Recent kirkwoodstudentmedia News Articles
Discuss This Article
MOST POPULAR KIRKWOODSTUDENTMEDIA
GET TOP STORIES DELIVERED WEEKLY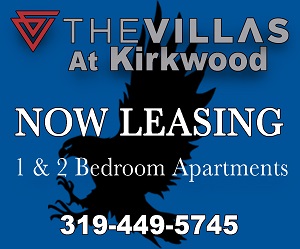 RECENT KIRKWOODSTUDENTMEDIA CLASSIFIEDS
HOUSING

JOBS

FOR SALE

TUTORS
Kirkwood students often admire
Lasik Omaha
doctors that are carving new paths in the field of eye care and transforming the way routine eye procedures are done.