Post Classifieds
#Jake's Game
Eagles Fight with Coach Jacobson
By Erich Pitcher & Lizzie Lake
On February 6, 2018
Cancer. The very word can strike fear and worry into the heart of the bravest individual. According to the Center for Disease Control, about 700,000 people died in 2017 due to some form of the disease. However, one Kirkwood Community College employee isn't allowing himself to become another statistic.
In October 2017, Assistant Men's Basketball Coach Ben Jacobson was traveling home from work when he suffered a seizure and his car flipped 12 times.
A routine CT Scan was done to check for a concussion and the scan revealed a level 2 tumor on his frontal lobe. He was told an operation could render him blind or deaf, so Jacobson chose chemotherapy and medication to reduce the size of the tumor.
"Coach Jacobson is a big part of our team. He is one of our coaches and an important person for our players. He is a great role model for our players in how to handle adversity," said Head Men's Basketball Coach Bryan Petersen.
Last November, a GoFundMe page named Fighting with Coach Jacobson was started to help with expenses. To date the page has raised $11,490 of the $15,000 goal.
On Jan. 17, 2018, Kirkwood hosted a Gray Out event during the men's and women's basketball doubleheader. Students, faculty, staff and community supporters were encouraged to wear gray, the color for brain cancer awareness. Gray t-shirts were sold and Kirkwood's opponent for the evening, North Iowa Community College, announced they held a basketball camp and raised $1,970 for Jacobson.
Jacobson responded with his fist held high, "It's not easy to fight my disease but I'm a lucky man." He thanked his family, team and community for their love and support. "This is the best medicine a man could ask for," he said.
Petersen said, "The emotions on the Gray Out night were very high. It was a successful night in that we were able to raise awareness for a terrible disease and raise money for the Jacobson family. It was also a special night in that we were able to see our college really come together to support one of our own."
Get Top Stories Delivered Weekly
More kirkwoodstudentmedia News Articles
Recent kirkwoodstudentmedia News Articles
Discuss This Article
MOST POPULAR KIRKWOODSTUDENTMEDIA
GET TOP STORIES DELIVERED WEEKLY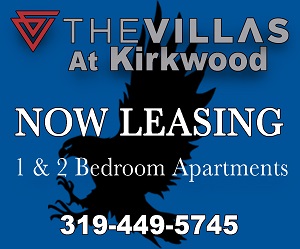 RECENT KIRKWOODSTUDENTMEDIA CLASSIFIEDS
HOUSING

JOBS

FOR SALE

TUTORS
Kirkwood students often admire
Lasik Omaha
doctors that are carving new paths in the field of eye care and transforming the way routine eye procedures are done.