Post Classifieds
The stars don't always align when it comes to politics
By Juana Jones
On February 6, 2018
Article II of the US Constitution states only three official qualifications one must meet to run for presidential office: Be a natural born citizen, live in the United States for 14 years and be at least 35 years of age.
The country was just out of the Revolutionary War and in its infancy when the Constitution was written and some may say it's time to revise the qualifications.
No other official restrictions have been added since it was first written and anyone who meets the criteria can run, including celebrities. After all, two have already been elected president: Ronald Reagan and Donald Trump.
There are many current celebrities who have considered or are/have been rumored to be running for president, among them are names such as Chris Rock, Dwayne Johnson, Kanye West, Katy Perry and Oprah Winfrey.
Celebrities and those of public interest running for office, especially one as high as the president, has been a heated debate many times over. Even with meeting constitutional requirements, other "unofficial" topics come into play when deciding to throw one's hat into the political ring.
Education seems to be one of the most important credentials a presidential candidate must have. The role comes with a multitude of responsibilities and the person who occupies the office will need to make many important decisions. As such, it appears one would not be successful without a strong educational background.
However, each of the celebrities previously mentioned have some sort of education. The education is in different fields and academic levels yet have all been wildly successful. Does more education really mean someone is better capable to serve in public office?
Another topic of controversy is political backing. Historically, grass root parties and independents have not experienced much success running for president despite meeting requirements and being well-educated.
The major parties of the current age are the Democrats and the Republicans, with each having support and critique from a variety of Hollywood actors.
The celebrities themselves often experience backlash when voicing their political opinions, including the possibility of running for office but if they meet qualifications, why should they not be taken seriously?
There are many who believe celebrities have a public platform that would be beneficial in government and politics and in a way, have a duty to use their status for the greater good. Opponents to the idea claim they can be selfish and biased, therefore not a good fit.
At the end of the day, the pure fact is most politicians are well known in some way and a celebrity of their own sorts. The choice to be actively involved in politics is a personal choice and our Constitution ensures equality for all.
Get Top Stories Delivered Weekly
More kirkwoodstudentmedia News Articles
Recent kirkwoodstudentmedia News Articles
Discuss This Article
MOST POPULAR KIRKWOODSTUDENTMEDIA
GET TOP STORIES DELIVERED WEEKLY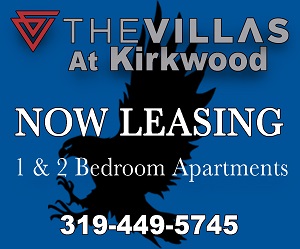 RECENT KIRKWOODSTUDENTMEDIA CLASSIFIEDS
HOUSING

JOBS

FOR SALE

TUTORS
Kirkwood students often admire
Lasik Omaha
doctors that are carving new paths in the field of eye care and transforming the way routine eye procedures are done.