Post Classifieds
Cedar Valley Divide submission deadline extended
By Henna Puthalavan
On February 6, 2018
The Cedar Valley Divide (CVD) is the college's literary magazine and represents the creative circle of Kirkwood Community College.
For the past three months the CVD has been accepting submissions and the deadline has now been extended to Feb. 4.
Students from different majors, as well as faculty, staff, alumni and community members can submit their works. The CVD is accepting submissions for poetry, short fiction, creative nonfiction, digital art, photographs and other works of art that can be photographed and submitted electronically.
"The campus community appreciates the ability to submit what is done in art classes, creative writing classes, composition classes and even in some other departments like photos of floral designs and culinary creations. And, it is helpful to students because they can go beyond what they did in class and professionalize their work for larger audiences," said Lisa Angelella, CVD faculty advisor.
She added, "Students should realize that they are not limited to submitting something which they created for class. It could be something they created on their own and at the same time they should not be afraid to submit the work which started as an exercise in class. We have published that kind of work a lot in previous magazines."
Material submitted online will be edited and proofread by students enrolled in the CVD class. Those students also design and prepare the magazine for publishing.
Alyssa Neis, one of the students enrolled in the class said, "Through the Cedar Valley Divide people get a voice and can make a difference. This magazine represents all artistic expression and gives a platform to new writers. So, I was really happy to hear that the submission deadline is extended."
Around 126 submissions have already been received, according to Angelella. She added that the class considers around 30 works for publication and it will be half art submissions and half written works.
Angelella mentioned that having worked with the Cedar Valley Divide for four years, that every publication is different by content and theme.
"They all have their own flavor because of the submissions that we get. Sometimes we can focus on contemporary issues. Sometimes we have funny material and political material. We have different students such as those who are parents, those who are young students and those who have different perspectives in religion and culture. So, their expression also would be different," she said.
Those interested can submit their pieces online at www.kirkwood.edu/cedarvalley.
Get Top Stories Delivered Weekly
More kirkwoodstudentmedia News Articles
Recent kirkwoodstudentmedia News Articles
Discuss This Article
MOST POPULAR KIRKWOODSTUDENTMEDIA
GET TOP STORIES DELIVERED WEEKLY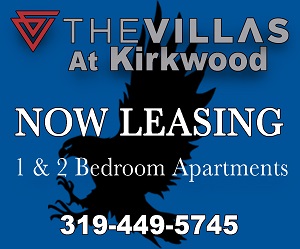 RECENT KIRKWOODSTUDENTMEDIA CLASSIFIEDS
HOUSING

JOBS

FOR SALE

TUTORS
Kirkwood students often admire
Lasik Omaha
doctors that are carving new paths in the field of eye care and transforming the way routine eye procedures are done.