Post Classifieds
A hard knock life for journalists
By Staff Editorial
On February 20, 2018
"Journalism can never be silent: That is its greatest virtue and its greatest fault. It must speak, and speak immediately, while the echoes of wonder, the claims of triumph and the signs of horror are still in the air." - Henry Anatole Grunwald
Building trust. Reaching out to contacts and acquiring new resources. Ducking and dodging to catch the next lead under the threat of near constant criticism. Hectic days followed by equally long and sometimes sleepless nights that can't guarantee anything other than an instance of Murphy's Law- what can go wrong often will.
Who in their right mind would willingly take on a seemingly immeasurable obligation?
Welcome to the world of journalism, where people knowingly take risks, face daily scrutiny, challenge boundaries and push the limits to remain a vital resource in an ever-changing world.
Despite personal sacrifice, which can be costly in extreme situations, journalists feel a unique sense of duty to educate and inform the public regarding hot button and controversial issues that impact and change lives on a local, national and global scale. When all is said and done, the end will justify the means and the result is the reward.
As if being the eyes, ears, voices, authors and sleuths for the whole planet wasn't enough, the age of technology has made it easier than ever to discredit honest civil servants acting in the interest of the greater good.
Because we are all human, nothing is without villains and mistakes will be made however, most journalists are simply hard working, curious people with a social conscience who thrive on chaos.
Most anyone can agree there is a difference between someone making an honest mistake and intentionally misleading others.
The Kirkwood Communiqué would like to encourage all staff, faculty and students to not be distrusting or skeptical when investigating topics and staying up to date on current events.
Instead, utilize modern resources to get the information desired - just follow a few best practices to ensure the what is being accessed is reliable and accurate and report that which is not.
Ultimately, those who volunteer to enter the world of journalism are making a conscious choice to take on challenges, face obstacles, ask tough questions, investigate controversy and ensure we are doing our part to make a difference in a world where it can be hard to stand out.
Get Top Stories Delivered Weekly
More kirkwoodstudentmedia News Articles
Recent kirkwoodstudentmedia News Articles
Discuss This Article
MOST POPULAR KIRKWOODSTUDENTMEDIA
GET TOP STORIES DELIVERED WEEKLY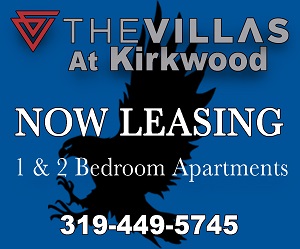 RECENT KIRKWOODSTUDENTMEDIA CLASSIFIEDS
HOUSING

JOBS

FOR SALE

TUTORS
Kirkwood students often admire
Lasik Omaha
doctors that are carving new paths in the field of eye care and transforming the way routine eye procedures are done.