Post Classifieds
A maddening copy takes the stage
'The Madwoman of Chaillot' debuts for Kirkwood Theater
By Lizzie Lake
On February 20, 2018
On Thursday, Feb. 15, the curtain will rise in Ballantyne Auditorium in Iowa Hall for the debut of "The Madwoman of Chaillot." Shows will be Feb. 15 - 17 at 7:30 p.m. and Feb. 18 at 2 p.m.
"The Madwoman of Chaillot" pronounced Shai-yo, written by Jean Giraudoux (1943), adapted by Maurice Valency and directed by Rick D. Anderson, takes place in Paris, France, where a group of promoters plan to accumulate money by tearing up Paris to unearth oil that a prospector believes he has located that could unravel a great amount of wealth.
"The play is about trying to save the beauty in the world from the people who are trying to destroy it," Director Rick Anderson said. "The play itself is a comedy but the theme that is running through the play is a serious matter which relates to our everyday lives. The idea that if you have money, you can do anything. For example, the destruction of the oil pipeline for oil and oil alone, that if that oil is released into the water, the fish will die. The removal of Indians from their ground for it to be sold. As follows Ragpickers line in Act 2," said Anderson.
"When you have no money, nobody trusts you, nobody believes you, nobody likes you. Because to have money is to be virtuous, honest, beautiful, and witty. And to be without is to be ugly and boring and stupid and useless," he added.
Little do the promoters know that a madwoman, played by Mackenzie Kiel, leads herself and other equally mad women on a quest to shut down the International Substrate of Paris, Inc. and its promoters to save the City of Chaillot from darkness and bring joy, justice and love to the world.
"It's a big dysfunctional family," said Christian Malcolm, who plays the President of the International Substrate of Paris Inc.
"It's a welcoming environment. As soon as you walk in the doors you feel at home. Theres no fear of being judged. You can throw yourself away and fall into a completely different character. You can put all of your emotion into your character to make him/ her perfect," Malcolm added.
This production is free to Kirkwood students, faculty and staff with their EagleCard. Tickets can also be purchased at the door and are $10 for adults and $5 for children/seniors. For more information on tickets call: 319-398-5899, ext. 4331 or email ballantyne@kirkwood.edu.
Get Top Stories Delivered Weekly
More kirkwoodstudentmedia News Articles
Recent kirkwoodstudentmedia News Articles
Discuss This Article
MOST POPULAR KIRKWOODSTUDENTMEDIA
GET TOP STORIES DELIVERED WEEKLY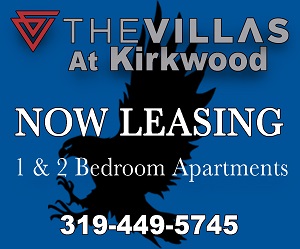 RECENT KIRKWOODSTUDENTMEDIA CLASSIFIEDS
HOUSING

JOBS

FOR SALE

TUTORS
Kirkwood students often admire
Lasik Omaha
doctors that are carving new paths in the field of eye care and transforming the way routine eye procedures are done.