Post Classifieds
Slashers: The unsung heroes of Hollywood horror films
By Erich Pilcher
On February 20, 2018
Villains are essential to the plot structure of any film. They have been referred to heavies, antagonist, bad guys, etc. They cause great peril to heroes or lead characters of a film and most people (not myself, I always root for the bad guy) root against them. However, one group of villain's deserve our sympathies and cheers.
This would be the slashers. They are victims of consequence and deserve our love.
While re-watching Friday the 13th saga, I felt inspired to write what makes a slasher? There are a few aspects that make an interesting slasher.
They evolved from a catastrophic event that was not their fault: Jason drowned as a child because two camp counselors were busy drinking, drugging and fooling around while watching him.
Freddy Kruger was burned alive by the parents of the children he butchered after he was acquitted on a technicality (why not go after those that caused the technicality? Why poor Freddy?).
Michael Meyers was controlled by the spirit of an evil witch.
Leatherface is deformed (the story varies on how) and is mentally stunted and bullied by his family.
Jigsaw saw his pregnant wife miscarry because a drug addict assaulted her to get a fix. So this leads to point number two.
They must twinge a sympathetic nerve: Jason was mentally challenged and a "mama's boy" and in return, his mother loved him just as much (also worth noting is he witnessed his mother being beheaded).
Kruger was bullied as a child by the future parents of the children he offed. Meyers wanted to find his long lost sister. Leatherface is a big lug who wants acceptance from his family. Jigsaw wants people to value life and recognize their vile acts.
Those actions can cause sympathies and make people ask "Is what they are doing really that bad?"
The people that they kill, are they really missed? At the risk of sounding cold and callous, are the people murdered in slasher films really assets to society? More often than not, the "victims" have their lives violently taken away from them after committing ore right before committing an immoral act (pre-marital sex, drugs, alcohol, crimes, etc.). Jigsaw even makes it a point to have his victims trap tie into their immoral acts.
The point is this, no, they are not champions of society. If Randy from the Scream franchise taught us anything it essentially to be good and you will survive.
The hero or chief competition must be of pure of heart: This is the most well-known of the rules. The hero must be a goody two shoes. They do not drink, use drugs or act promiscuously. They also must survive.
This is how this particular series of films manipulate viewers. They use "cookie cutter" characters to make the viewer root against the true hero, the slasher. Do not fall for this manipulation.
In closing, next time you view a slasher film, do not hesitate to shed a tear for the "bad guy".
They are the ones who really need the support. The hero has a good family and support, the slashers need it more. So show the Freddy's, Jason's Michael Meyer's, Jigsaw's and the big lovable beast Leatherface some tender care and well-wishes. Make sure to keep the cheers down, the theater only has room for one maniac.
Get Top Stories Delivered Weekly
More kirkwoodstudentmedia News Articles
Recent kirkwoodstudentmedia News Articles
Discuss This Article
MOST POPULAR KIRKWOODSTUDENTMEDIA
GET TOP STORIES DELIVERED WEEKLY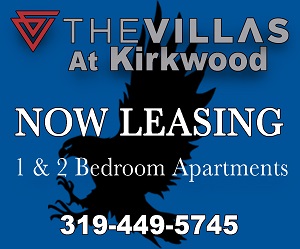 RECENT KIRKWOODSTUDENTMEDIA CLASSIFIEDS
HOUSING

JOBS

FOR SALE

TUTORS
Kirkwood students often admire
Lasik Omaha
doctors that are carving new paths in the field of eye care and transforming the way routine eye procedures are done.