Post Classifieds
Action, drama, romance and murder in new Netflix series
By Juana Jones
On February 20, 2018
Netflix's original series, Altered Carbon" hit the web on Feb. 2, bringing with it action, drama romance and murder. With great characters, a good plot and fantastic Computer Generated Imagery (CGI), the show gained quite a bit of popularity with audiences looking to watch a great thriller.
"Altered Carbon" brings in several characters, each with a vital role that helps progress the plot. The main character, Takeshi Kovacs, played by Joel Kinnaman, is a convict who is part of the last legendary freedom fighting group called the Envoys.
He is joined by Poe, played by Chris Conner, Kristin Ortega, played by Martha Higareda, and military doctor Vernon Elliot, played by Ato Essandoh who is looking for his daughter Lizzie Elliot, played by Hayley Law.
Poe is an AI (Artificial Intelligence) who is devoted to helping his customers through his connection with The Raven Hotel.
Ortega works in the police force who has a deep hatred for Kovacs. In the beginning, the characters seem very shallow, however, their stories develop with the progression of the plot.
It all begins when Kovacs is "bought" by multi-trillionaire Laurens Bancroft. From there, Kovacs is given a mission to find Bancroft's killer and in return, Kovacs is given a full pardon, enormous riches, and most importantly his freedom. Reluctantly, Kovacs agrees.
It is in this moment that he comes to meet Ato and his daughter Lizzie. This is where they come together to solve Bancroft's murder, as well as uncover a conspiracy that higher power doesn't want them to know.
The producers took a major risk in using large amounts of CGI in the movie. However, the risk was well worth it and paid off. The production crew did a fantastic job at transitioning between CGI and sets in several places, most notably in the void between reality and mental world.
However, there are a few spots where the CGI is a little shaky. This is best shown when Kovacs dives into Lizzie's mind.
With great characters, a good plot and fantastic CGI settings, "Altered Carbon" surfaced some problems. First and foremost and perhaps the biggest problem of it all is that it becomes harder to understand what's going on plot wise due to jumping between three characters at spontaneous moments throughout the show.
Another problem is that the show ended on a bad cliffhanger which made viewers wonder, "Will there be a second season?"
Get Top Stories Delivered Weekly
More kirkwoodstudentmedia News Articles
Recent kirkwoodstudentmedia News Articles
Discuss This Article
MOST POPULAR KIRKWOODSTUDENTMEDIA
GET TOP STORIES DELIVERED WEEKLY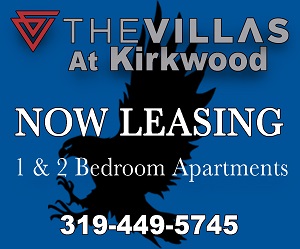 RECENT KIRKWOODSTUDENTMEDIA CLASSIFIEDS
HOUSING

JOBS

FOR SALE

TUTORS
Kirkwood students often admire
Lasik Omaha
doctors that are carving new paths in the field of eye care and transforming the way routine eye procedures are done.