Post Classifieds
Different faces, familiar places Q&A
Seasoned food service veteran to maintain quality standards
By Christina Uptain & Erich Pilcher
On April 3, 2018
Justin Clark, General Manager of The Cafe
There's a new face in and around the kitchen and facilities of The Café on the main campus at Kirkwood Community College. Below is a Q&A with Justin Clark, the new general manager.
Q: How did you find out about the open general manager position in The Café?
A: I actually know the prior general manager so when I heard this position was to be available, I pursued it further.
Q: What experience do you bring to the table?
A: In all, I have about 20 years of experience in food service and hospitality. In my lifetime, I have worked for a range of corporate and private establishments both in Iowa and Alaska. Just prior to starting here at Kirkwood, I was a catering/dining/event coordinator at the University of Iowa.
Q: Can you talk more about your experience in Alaska?
A: Well, in 2003 I decided to go up there for some seasonal work. I ended up liking it so much, I transferred to the University of Alaska to finish my Bachelor's degree in Political Science and stayed for 12 years. I worked for different places there including a health food store and a hunting/fishing lodge.
Q: Where are you originally from and what brought you back to Iowa?
A: I am originally from a small town called Miles, Iowa, in Jackson county. I liked Alaska well enough just after being away from home for all that time, I decided it was time to come back for my family.
Q: You mentioned previously you have a degree in Political Science. Do you feel that has helped you in the food service and hospitality industry, and how?
A: Political Science has a heavy focus on critical thinking, being challenged outside of comfort zones and the need to be flexible.
Those skills are all beneficial in my current role, especially since I work with both part-time workers who are students and full-time workers who are not students (though many of them attended school here), as well as working hand in hand with catering and event services.
Q: What is the main focus of your role at this time?
A: Menu development for students as well as catering and events.
Q: What is your #1 goal for The Café?
A: To continue to execute the excellent food quality and guest service we are known for and I experienced myself from the very first visit I had here, as well as fully support the staff as they need to continue to produce according to our high standards.
Q: What is your favorite aspect of being on campus thus far?
A: I really enjoy meeting and interacting with the varied student body and staff we have here. Everyone thus far has an interesting personality and story, and I look forward to learning more about the people The Café serves every day.
---
Jackie Bohr, General Manager of The Hotel at Kirkwood Center
Q: How did you find out about the open manager position in The Hotel at Kirkwood?
A: The position was posted on the website www.indeed.com. I graduated from Kirkwood Community College in May 2017 while living and working in Houston, Texas.
All of my classes were taken through the Distance Learning program, so I had not been on campus for over 20 years and did not realize the amazing teaching hotel that was built in 2010. I was excited to learn about the hotel and the general manager position.
Q: What experience do you bring to the table?
A: I spent the last 27 years working for Starwood Hotels and Resorts and Marriott International in four U.S. cities. My most recent position was Complex Hotel Manager at The Westin Galleria and Westin Oaks Hotels in Houston. Combined the hotels had 893 guest rooms and over 100,000 square feet of meeting space.
I began my hospitality career in the food and beverage division followed by the rooms division and then overall hotel operations. Some of the most memorable events I worked were the 1996 Olympics, seven presidential visits, four Liberty Mutual PGA Champion Tour Tournaments, eight Superbowls, eight Texas Bowls, four NCAA Final Four playoffs and seven major hotel renovations.
I truly love the hospitality industry and look forward to mentoring our future hoteliers.
Q: Where are you originally from and what brought you to Iowa and Cedar Rapids?
A: I was born and raised in a small town in northeast Iowa – Protivin. My parents still reside there and I have family in Iowa and Minnesota.
My husband and I have been relocated several times over the past several years for our careers and are very happy to be "home" and close to family.
Ironically, I started my hospitality career at The Stouffer Hotel in Cedar Rapids while I was taking classes in The Kirkwood hospitality program after high school. I feel like I have come full circle and am excited to be a part of such a unique and dynamic team.
Q: What has been your favorite part about being at Kirkwood thus far?
A: My favorite part of being at Kirkwood has definitely been the people. Everyone that I meet is more than willing to help answer questions, teach me about the hotel, hospitality program and Kirkwood.
I continue to be amazed by the collaboration between departments and am excited for what the future holds.
Q: What is your main focus at this time?
A: The Hotel at Kirkwood Center is known for exceeding expectations for guests and students.
My focus is to collaborate with the academic department, the hotel leadership team and the community to create new and innovative experiences so more people can enjoy what we offer.
The Hotel has won the esteemed AAA Four Diamond Award six years running and this will continue to be a focus for our team.
Get Top Stories Delivered Weekly
More kirkwoodstudentmedia News Articles
Recent kirkwoodstudentmedia News Articles
Discuss This Article
MOST POPULAR KIRKWOODSTUDENTMEDIA
GET TOP STORIES DELIVERED WEEKLY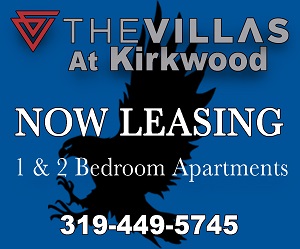 RECENT KIRKWOODSTUDENTMEDIA CLASSIFIEDS
HOUSING

JOBS

FOR SALE

TUTORS
Kirkwood students often admire
Lasik Omaha
doctors that are carving new paths in the field of eye care and transforming the way routine eye procedures are done.