Post Classifieds
Revitalize the home and spirit along with Mother Nature
By Cassy Plowman
On April 3, 2018
With another winter conquered and April right around the corner, it's that time of year when the air begins to warm and people start spending more time outside.
Spring is also associated with decluttering and cleaning out last year's unwanted items, including tidying up the yard.
"Spring cleaning" can be a good reason to tidy the gutters, go through old clothes and give away what is no longer needed and to take care of other household chores that are often put off or neglected for other tasks.
Cleaning and decluttering can have its benefits as well.
More space and better organized living areas are typically common goals however may also help draw attention to repairs or other issues that may have otherwise gone unnoticed or were covered.
Clearing out clutter can help improve one's mood because of the feeling of getting something done and taking care of items that have been avoided both intentionally and unintentionally.
Cleaning up the home or apartment can also help make room for things acquired over the next year of holidays and other events.
Spring for those who own or rent a home means cleaning up the yard in addition to getting the inside in order.
Picking up sticks, raking leaves and attempting to remove the trash that has been buried under snow and ice for a few months are on the top of the list.
Warmer temperatures and better weather overall is also perfect for clearing out or creating a flowerbed then planting some flowers or possibly a garden, for those who are more ambitious.
It is important to remember to make plenty of time and involve the whole household so the work goes faster with more hands.
Having a clean environment can nurture positivity and compliment starting the year off right.
We have a chance to grow anew with the animals and plants we share our neighborhoods with. Grab a broom, mop, garden shears, or whatever is needed and get to work.
Get Top Stories Delivered Weekly
More kirkwoodstudentmedia News Articles
Recent kirkwoodstudentmedia News Articles
Discuss This Article
MOST POPULAR KIRKWOODSTUDENTMEDIA
GET TOP STORIES DELIVERED WEEKLY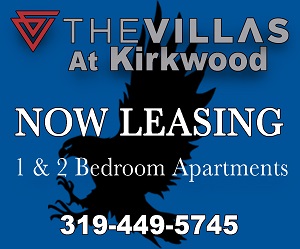 RECENT KIRKWOODSTUDENTMEDIA CLASSIFIEDS
HOUSING

JOBS

FOR SALE

TUTORS
Kirkwood students often admire
Lasik Omaha
doctors that are carving new paths in the field of eye care and transforming the way routine eye procedures are done.