Post Classifieds
Pair of geese choose main campus for spring meeting
By Jeff Sigmund
On April 13, 2018
A pair of mating Geese have decided to take up nesting and lay eggs in the area between Linn and Cedar Halls on the main campus at Kirkwood Community College.
While one sits on the nest, the other mate guards the area which has caused some difficulties for students. The guarding goose has been known to hiss, nip and even chase pedestrians when they feel a threat to their nest.
According to Aron Arthure, Iowa Dept. of Natural Officer, pursuant to Iowa Code 481A.38 "It is illegal to remove the nest and also to disturb or harass the mating geese."
He added that doing any of these actions could result in large fines.
Under this code, and the The Migratory Bird Treaty Act of 1918, makes it illegal to disturb the nest of any native bird without a permit but there are exceptions for birds considered non-natives and exotics in the U.S., such as the Canadian Goose.
Arthure also stated that during non-hunting season, the Canadian Goose is classified as an Endangered Species.
When asked how long the geese would be at the nest and area surrounding it, Arthure said, "The female goose begins incubating the eggs the day the final egg is laid. The goose normally incubates the eggs for 28-30 days before they hatch."
Pieces of bread have been found near the nest on campus. Arthure advised not to feed the geese. He stated, "It can cause Metabolic Bone Disease (MBD)."
According to totalwildlifecontrol.com, Metabolic Bone Disease (MBD), in birds results in painful degenerative changes in the bones that result from nutritional imbalance and deficiencies. The number one cause is regular ingestion of bread and other human foods.
Providing food for ducks and geese does not make them healthier. The body changes lead to health complications for instance just to name a few, weakness, abnormal postures, including torticollis, appetite loss, lethargy, pain and if untreated, death.
To avoid additional problems, Kirkwood has asked students to do their best to avoid the area and to walk a distance away from the geese so as not to disturb them.
Get Top Stories Delivered Weekly
More kirkwoodstudentmedia News Articles
Recent kirkwoodstudentmedia News Articles
Discuss This Article
MOST POPULAR KIRKWOODSTUDENTMEDIA
GET TOP STORIES DELIVERED WEEKLY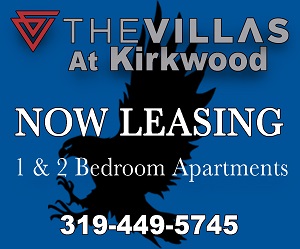 RECENT KIRKWOODSTUDENTMEDIA CLASSIFIEDS
HOUSING

JOBS

FOR SALE

TUTORS
Kirkwood students often admire
Lasik Omaha
doctors that are carving new paths in the field of eye care and transforming the way routine eye procedures are done.