Post Classifieds
At the end of the day, pride in one's self is what should matter
By Denny West
On April 13, 2018
As I prepared to face down my first days back at school, the word "competition" came up in conversation often.
I would be "competing" not only with a whole generation of students more equipped to navigate this modern world but also fellow non-traditionals as eager for a change as I was.
In some ways, it felt was as if we were being thrown in a room with limited resources where only the strongest will survive.
That certainly wasn't the way I was looking at college from the outside so did I have a rude awakening coming to me?
Fighting for grants and scholarships as well as racing against the clock and other students for desired classes is something I fully understand.
However, when it came down to showing up and doing the work, didn't we all have an equal shot at learning and being graded fairly, unaffected by our classmates' success or failure?
In other words, do I have to make sure another is down, so I can rise above them?
That didn't seem like very advanced thinking and I wondered if my writer's imagination was getting the better of me.
The truth is often found from experience, so what is it that was learned?
My worries that college was more of a race than an institution of higher learning were soon quelled, as I am reminded there is often more than one way to view a situation.
If I feel I am in competition with my fellow students, then perhaps it's only by making myself be seen and actively participating in class that makes me memorable.
Raising my hand often, asking provocative questions, throwing in some jokes (even if only funny to me) and utilizing my phenomenal hair to set myself apart were as competitive as I was going to get and yet, ended up being all I needed.
The reasons behind this journey are numerous but most important is to prove to myself that I am capable of the things I've believed I could do, so I compete every day to a certain degree.
The person who deserves to succeed and the man in the mirror questioning himself are one in the same, yet I am not prepared to let myself down.
Reflection and self-evaluation lets this man know he's on the right path and the road he's mapped out will lead to the desired destination.
Don't worry too much about competing with others. The only person you need to prove anything to should be yourself and take it from one who knows- that is all that matters when all is said and done.
Get Top Stories Delivered Weekly
More kirkwoodstudentmedia News Articles
Recent kirkwoodstudentmedia News Articles
Discuss This Article
MOST POPULAR KIRKWOODSTUDENTMEDIA
GET TOP STORIES DELIVERED WEEKLY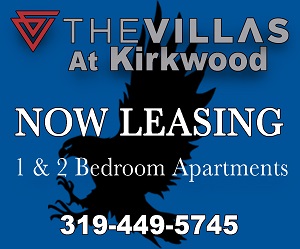 RECENT KIRKWOODSTUDENTMEDIA CLASSIFIEDS
HOUSING

JOBS

FOR SALE

TUTORS
Kirkwood students often admire
Lasik Omaha
doctors that are carving new paths in the field of eye care and transforming the way routine eye procedures are done.