Post Classifieds
Wages should compensate for increases in cost of living
By Cassy Plowman
On April 13, 2018
Being an adult can be difficult and for those who work multiple jobs to make ends meet, it is harder still.
Unfortunately, this is the reality for many Americans. The last federal minimum wage increase came in 2009, increasing minimum pay to $7.25 per hour.
Since then, many Americans, including college students, are finding it harder to sustain all needs of life when wages have remained the same while the price of goods and services continues to rise.
College students face additional challenges in terms of employment, since almost all have limited time outside of class and homework to dedicate to working.
There are several who attend school all week then work as "weekend warriors", which pans out to very little time for leisure.
The concept of "living wages" has long been a heated debate, and as of recent has been in the forefront of politics and American daily life.
Some employers are not required to pay employees minimum wage. Servers, bar tenders, and hosts/hostesses that make tips report their income and pay taxes accordingly, so they receive less per hour than the law requires.
According to the Department of Labor, employers can pay as little as $2.13 per hour provided that the employee's tips combine to equal or exceed the federal minimum wage.
For those making minimum wage with no tips, living pay check to pay check may be their reality with some even working more than one job.
This is not an effort to obtain extra spending money, but to put food on the table and provide for themselves and their families.
Many are faced with difficult decisions on a regular and sometimes daily basis.
Working for minimum wage may force some people to forgo buying a necessary item such as toothpaste because buying that might mean not eating for one night that week.
Living wage is a hot topic in the world today. In fact, there are enough struggling to live with low wages surrounded by high prices that a simple Google search turns up dozens of blogs dedicated to teaching people how to live off what little money they are receiving.
The phrase "life hacks" seems to be common these days, and just about anyone has heard of extreme couponing, to name a few examples of pop culture even taking an interest in what can be viewed as a national epidemic.
The solution of raising wages seems simple yet also easier said than done and has support on both sides of the argument.
It would seem the primary benefits would be not only more income per hour and year, but also make it possible to work one job, thereby obtaining a better work-life balance many experts agree is vital to success both in personal and professional lives.
There are other opportunities as well, such as attending school or seeking a trade certification.
With higher education, a more in demand job such as a position in the rapidly growing field of IT, becomes a reality and can further strengthen one's outlook on life in whole.
This is not to say that only minimum wage will be raised- the overall concept is that raising wages at the bottom will push upward and align average Americans with pay that allows them to live without unnecessary struggle and offset the uncertain and ever-increasing cost of living.
At the end of the day, we all want to feel valued and know that we can sustain ourselves and our families without having to break our backs or miss out on experiences that make us human.
While money is not the only element in a happy life, it certainly makes it more enjoyable when basic needs are taken care of and there can be a little room to stop and enjoy the limited time we are given.
Get Top Stories Delivered Weekly
More kirkwoodstudentmedia News Articles
Recent kirkwoodstudentmedia News Articles
Discuss This Article
MOST POPULAR KIRKWOODSTUDENTMEDIA
GET TOP STORIES DELIVERED WEEKLY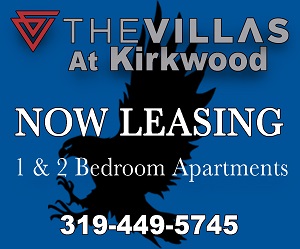 RECENT KIRKWOODSTUDENTMEDIA CLASSIFIEDS
HOUSING

JOBS

FOR SALE

TUTORS
Kirkwood students often admire
Lasik Omaha
doctors that are carving new paths in the field of eye care and transforming the way routine eye procedures are done.