Post Classifieds
Artificial intelligence being used in practical ways
By Quinten Kilborn
On April 13, 2018
Artificial Intelligence (AI) is often portrayed as a hyper-intelligent, malevolent entity that will be the end of humankind.
It's most prevalent in Hollywood, with films such as 2001: A Space Odyssey, Transcendence, I, Robot, Terminator, The Avengers, and even children's movies like Wall-E. The reality, however, is very different.
The AI we know today is extremely rudimentary compared to the aforementioned harbingers of destruction. Almost all modern smartphones and computers have one: Siri, Alexa, Bixby, the Google Assistant, and Cortana to name a few.
AI has even begun making its way into homes with Amazon's Alexa and Google's Assistant being on the forefront of "smart homes."
These AI live in smart speakers, able to control everything from lights to doorbells with just one's voice.
The difference between Siri and Skynet is quite similar to the difference between the command line interface of MS-DOS and the modern operating systems we use today; the uses are quite powerful… if you know the right commands.
The word "intelligence" in the name is actually a bit misleading; it's not sentient intelligence humans have as compared to, say, monkeys.
Instead, AI intelligence is based on machine learning, a way of teaching machines to analyze data and statistics without being specifically programmed to do so.
As an example, Google's Photos app can recognize places and things based on pictures of the same things that are readily available on the Internet. It may seem creepy or off-putting at first, but when you realize the AI is just seeing your photos as a piece of data in a pool of trillions of other pieces, it becomes much more interesting.
Another not insignificant difference is that today's AI don't express thought and emotion as humans or Hollywood AI do. In order to see that humans are destroying the planet, decide it would be better off without them, and wipe them out as a consequence (as is common in many blockbusters), AI would need to make interpret observations and fabricate thoughts of their own.
This just isn't the main goal of contemporary AI research. No one can know whether it may be possible in the future, but AI is being used in much more practical ways.
In one such example, researchers from Cornell University are working on AI that analyze students' test answers in order to understand why they arrived at those answers and what problem areas teachers and professors need to focus on.
Currently, it can only analyze simple math, but the hope is to expand the project to more complex problems in the future. This will affect how educators approach their teaching in a major way.
So, no, AI isn't the all-seeing eye of lore. But it is an extremely fascinating, rapidly expanding field of technology that has the potential to make life a lot easier as it has in so many ways already.
If there is a possible future in which AI turns on us, it's a long way off.
Get Top Stories Delivered Weekly
More kirkwoodstudentmedia News Articles
Recent kirkwoodstudentmedia News Articles
Discuss This Article
MOST POPULAR KIRKWOODSTUDENTMEDIA
GET TOP STORIES DELIVERED WEEKLY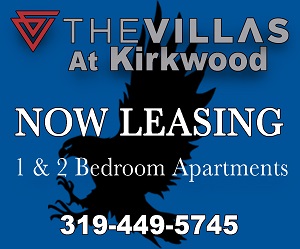 RECENT KIRKWOODSTUDENTMEDIA CLASSIFIEDS
HOUSING

JOBS

FOR SALE

TUTORS
Kirkwood students often admire
Lasik Omaha
doctors that are carving new paths in the field of eye care and transforming the way routine eye procedures are done.