Post Classifieds
New organ recently discovered in humans
By Brandon Williams
On April 27, 2018
During an age when medical technology can conduct robotic surgeries inside the retina of an eye, create artificial placentas and remove parts of the brain, it can be stunning to think of how many discoveries are still to come in the complicated recesses of the body.
It seems incredible to think that scientists could discover something like an entire organ.
Nevertheless, a recent study published by the journal Scientific Reports suggests just that: The interstitium.
The interstitium is a network of dense connective tissues that form fluid-filled compartments found just beneath the skin.
The study suggests that the function of the interstitium might include acting as a type of "shock absorber" for the body.
In addition, the fluid-filled compartments could play a role in the way cancer spreads through the body, which means there could be new avenues for research in cancer progression.
Dr. Neil Theise, professor of pathology at NYU Langone Health in New York, told CNN the interstitium could be 20 percent of the volume of the body, making it the largest organ (bigger than skin, which is roughly 16 percent).
The use of confocal laser endomicroscopy, which allows scientists to recreate three-dimensional structures out of two-dimensional images, allowed scientists to discover this network.
Previous techniques of examining tissue usually included removing tissues from the body and chemically treating them.
However, this method would drain away the fluids of the interstitium, causing the tissue to become flattened and appear like small torn spots instead of its own system.
Whether or not the interstitium becomes identified as an organ is contested. The Encyclopedia Britannica defines organ as "a group of tissues in a living organism that have been adapted to perform a specific function" but a great amount of research needs to be done to determine whether the interstitium is truly performing a specific function or if it is simply part of a bigger system.
It would be the most recent addition to classified organs since the mesentery (a set of tissues that attaches the intestines to the wall of the abdomen), which was added to the medical book Gray's Anatomy in 2017.
Get Top Stories Delivered Weekly
More kirkwoodstudentmedia News Articles
Recent kirkwoodstudentmedia News Articles
Discuss This Article
MOST POPULAR KIRKWOODSTUDENTMEDIA
GET TOP STORIES DELIVERED WEEKLY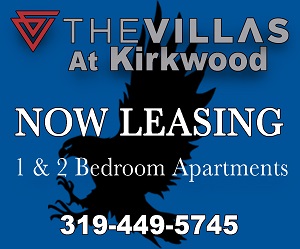 RECENT KIRKWOODSTUDENTMEDIA CLASSIFIEDS
HOUSING

JOBS

FOR SALE

TUTORS
Kirkwood students often admire
Lasik Omaha
doctors that are carving new paths in the field of eye care and transforming the way routine eye procedures are done.