Post Classifieds
Fear not, for failure is a part of success
By Denny West
On April 27, 2018
Oh failure, how I know thee well. No matter the number of victories, one can always count on you coming back for more.
I am joking to a degree, of course, but not succeeding has been in my skill set since I can remember.
I have only recently begun to look at what it means and the purpose of not achieving a goal.
Many, including myself, are often focused on the immediate "loss" of not hitting a certain target in the short term.
The reality of having several obstacles to overcome before the next steps can be taken toward reaching the goal is often overlooked.
Failure isn't an "end"- it's just part of a process and is defined by the individual.
How do we know what our needs are if we don't first fail to garner them?
There are several examples that come to mind in relation to failure, many of which impact college students on a daily basis.
It can be the pass/fail of a college exam or maybe to some, anything below a B is a personal failure.
Academically you shouldn't let that fear response keep you from taking a class that is out of your comfort zone.
That's what college is for, after all; the search for one's self, with background being of little importance unless that person desires otherwise.
No matter where one falls on the spectrum, one must learn to not fear failure nor use it as a justification or crutch to not take a step forward or in a different direction entirely.
Keep that in mind if you haven't signed up for the fall semester yet.
The only true failure is in not trying or giving up when challenges are faced.
Don't deny yourself the chance for greatness- the best things in life are not free nor are they easily obtained.
Whether it's trying a new recipe for the family dinner or discovering the means for intergalactic travel, don't be swayed by the butterflies in your stomach.
Instead, use them as energy to take that next step, whatever it may be.
Fear not the negative voices of doubt in your head.
Even professional sports players do not succeed every time they attempt yet they keep going and why?
In the words of Henry Ford, "Failure is simply the opportunity to begin again, this time more intelligently."
Get Top Stories Delivered Weekly
More kirkwoodstudentmedia News Articles
Recent kirkwoodstudentmedia News Articles
Discuss This Article
MOST POPULAR KIRKWOODSTUDENTMEDIA
GET TOP STORIES DELIVERED WEEKLY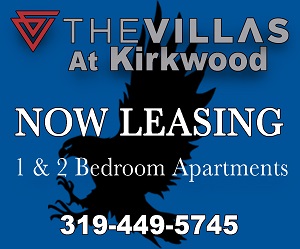 RECENT KIRKWOODSTUDENTMEDIA CLASSIFIEDS
HOUSING

JOBS

FOR SALE

TUTORS
Kirkwood students often admire
Lasik Omaha
doctors that are carving new paths in the field of eye care and transforming the way routine eye procedures are done.