Post Classifieds
Money or time for payment but not both
By Christina Uptain
On April 27, 2018
There are only so many hours and minutes each of us are given for daily tasks. Some days are busier than others, yet the amount of time given stays the same.
For the average college student, it can seem like a never-ending rollercoaster of classes, homework and projects are heaped on to what one needs to do to stay healthy and alive.
Grocery shopping is often a challenge and adventure one in the same.
Beating the crowds, finding the best store to shop at for certain needs, seasonal buys and keeping food in the house for daily consumption are fit into small time brackets that most students struggle to find on a regular basis.
Kirkwood Community College has the added facet of being on the far Southwest side of town, with the closest grocery store almost four miles away and somewhat isolated from the major concentration of goods and services around town.
For those wanting to make the most of their limited available time and avoid disappointment, heed these words: Avoid Walmart for about the first 7-10 days of the month unless it is late at night or at the crack of dawn.
Walmart is convenient, housing just about anything anyone could need under one roof and open 24 hours a day however, that attraction is a double-edged sword.
This is where money and time being equals and representative of each other becomes most important and identifiable.
In addition to the normal traffic this popular store receives, the beginning of the month is also when food and monetary government benefits are paid out for qualified recipients.
This means there are more people in the store during these days than at any other time of the month.
Stores of this size typically have several check-out lanes available and offer options of express and self-service for a better experience, adjusting as needed to keep their customers moving at a productive pace to maximize satisfaction while owning the numbers game.
Walmart on the other hand, does not seem to realize that an increased number of people in the store means there should be more lanes open to facilitate customer demands and show gratitude to shoppers for them choosing to spend money at their business.
I have experienced waiting before for products and services, and usually am pretty understanding however repeated visits to this store leads me to believe that the majority of the more than 30 check-out lanes they have are just for show.
I have a hard time remembering the last time I was in Walmart during hours that were preferred by creatures of the night and did not witness long lines being serviced by only a few cashiers, the rest of the lanes sitting dark and empty.
The straw that broke the camel's back, as the saying goes, was just a few weeks ago.
It was the day after Easter and the second of the month and I needed more than just food, so the choice was made to brave the masses for the time saving factor of getting everything I needed in one place.
To reference another popular phrasing, my mouth was wide open and ready to accept my foot.
Not only was the place the zoo I think many accept when shopping but being the day after the holiday and the beginning of the month added insult to injury.
It was so packed even the self-service lanes were overflowing yet, only four regular registers were open with lines that began to threaten infiltration of the clothing department.
Whether one had a few or numerous items, it seemed none of us were getting out of there in a timely fashion.
I waited about 15 minutes before a cashier took up her shift at the register kitty corner to where I stood so I took my opportunity to skip over the three people still in front of me.
I should probably feel a little bit bad for skipping over them but this plays into my point.
I moved a little bit faster than the others so I got out of the store a little faster than them but why should we all have to wait so long when the facilities exist to help everyone in a timely manner?
I had only a handbasket of items, yet all avenues of exit were congested and ended up making me regret my choosing to get everything in one place, or this place, I should say.
The amount of time consumers unnecessarily wait in line to give a multi-billion-dollar business their hard earned money is practically a slap in the face.
Our time is valuable for a variety of reasons, even if they don't see it that way.
It would be nice to see a business that claims to care about their customers show their appreciation for not only the money they get from what we purchase but also respect the time we spend in their establishment when we could have gone somewhere else.
Get Top Stories Delivered Weekly
More kirkwoodstudentmedia News Articles
Recent kirkwoodstudentmedia News Articles
Discuss This Article
MOST POPULAR KIRKWOODSTUDENTMEDIA
GET TOP STORIES DELIVERED WEEKLY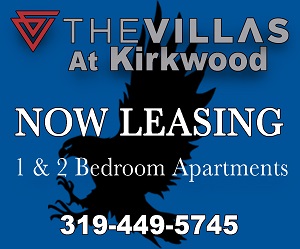 RECENT KIRKWOODSTUDENTMEDIA CLASSIFIEDS
HOUSING

JOBS

FOR SALE

TUTORS
Kirkwood students often admire
Lasik Omaha
doctors that are carving new paths in the field of eye care and transforming the way routine eye procedures are done.