Post Classifieds
'Night' stands test of time
By Denny West
On April 27, 2018
"The Diary of Anne Frank" is considered required reading in schools to help children understand the fear Jews who were in hiding during the Holocaust. To capture the fear of what it was like, Elie Wiesel wrote the book "Night" to share his story.
Taking you out of the attic and into the belly of the beast, Mr. Wiesel lays bare the utter humiliation, indignity and immeasurable as he takes you through his time at concentration camps in Auschwitz, Buna and Buchenwald.
Author Elie Wiesel doesn't use fancy writing tricks to keep your attention simply because he doesn't have to. The story is its own terrible truth and it would be a disservice to those who lost everything to do anything other than accurately recount the tale. It's as harrowing and horrible as anything you have ever read, with the most disturbing aspect being that it all actually happened.
Wiesel demands that we never forget the extermination of over six million Jews at the hands of the Nazis. We must demand of ourselves the same. The writer certainly won't as he tells us "Never shall I forget those flames which consumed my faith forever. Never shall I forget that nocturnal silence which deprived me, for all eternity, of the desire to live. Never shall I forget those moments which murdered my God and my soul and turned my dreams to dust. Never shall I forget these things even if I am condemned to live as long as God Himself. Never."
You too will not forget some of the things you will read in this book. Being made to look into the eyes of a hanging child who took thirty minutes to die. The constant black smoke rising from the crematories and the fear of being "selected" to go there. Prisoners trampling over other prisoners, alive and dead, just for a scrap of bread thrown into the trains. Dumping bodies from the cars, their own brothers and fathers. The Death March.
In 1986, Elie Wiesel received the Nobel Peace Prize for his activism and become a very popular speaker discussing the Holocaust throughout his life. Being 109 pages, I strongly urge you to read "Night" if you haven't done so already.
Get Top Stories Delivered Weekly
More kirkwoodstudentmedia News Articles
Recent kirkwoodstudentmedia News Articles
Discuss This Article
MOST POPULAR KIRKWOODSTUDENTMEDIA
GET TOP STORIES DELIVERED WEEKLY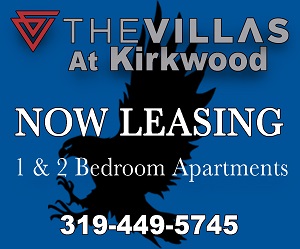 RECENT KIRKWOODSTUDENTMEDIA CLASSIFIEDS
HOUSING

JOBS

FOR SALE

TUTORS
Kirkwood students often admire
Lasik Omaha
doctors that are carving new paths in the field of eye care and transforming the way routine eye procedures are done.