Post Classifieds
'Love Simon' sheds light on LGBTQ+
By Lizzie Lake
On April 27, 2018
"Love, Simon" hit theaters on March 16. "Love, Simon" starring Nick Robinson as the main character, Simon Spier, holds a secret that no one knows. If you've read up on what the movie is based on, it's that Simon has a secret and that secret is he's gay. Afraid of what his family, his friends and peers at school would think, he's cornered into keeping quiet.
The movie bases Simon's experience off of theoretically what it would be like for someone who is a part of the LGBTQ+ community who is afraid to come out. Although Simon has a happy ending, that is not the case for everyone who does choose to come out. Instead, director Greg Berlanti captures what it can do to someone internally who is afraid to come out and partially captures the aftermath of what can happen when you do come out- whether it's your choice or not.
I don't know if I'd call it beauty by any means, but what Berlanti did was capture what it's like for someone to keep their secret from being exposed and the measures they're willing to go to.
In the movie, Simon is up against a fellow schoolmate who goes by Martin, who is played by Logan Miller, who figures out Simon's secret by looking at his email on a library computer that Simon forgot to log out of. In order to keep Martin silent, Simon must do what he says- even if that means putting his own friendships at stake.
"Love, Simon" was truly eye-opening movie for the naked eye. If you aren't a part of the LGBTQ+ community, chances are you won't know what it's like to contain something as big as what Simon had, but it did give a clear inside scoop of what it is like for someone. The agony, the fear and the questions that follow, such as "What will happen if I come out?" or "Should I come out?" were captured and it made one stop and think for a moment. Although the movie was not what one would consider a "family" movie, it did touch the hearts of those who saw it and theaters were left with wet eyes.
Overall, I would rate this movie quite high and I strongly urge you, the reader, to go out of your way to watch the movie, whether it'd be in theaters or on DVD.
This movie doesn't just capture what it's like for a gay boy to come out, but it captures what goes on around us each and every day. "Love, Simon" is more than relevant to today with LGBTQ+ becoming more and more common in society.
Get Top Stories Delivered Weekly
More kirkwoodstudentmedia News Articles
Recent kirkwoodstudentmedia News Articles
Discuss This Article
MOST POPULAR KIRKWOODSTUDENTMEDIA
GET TOP STORIES DELIVERED WEEKLY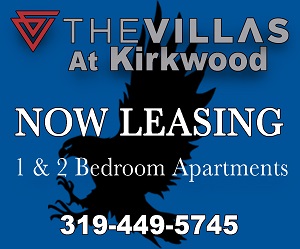 RECENT KIRKWOODSTUDENTMEDIA CLASSIFIEDS
HOUSING

JOBS

FOR SALE

TUTORS
Kirkwood students often admire
Lasik Omaha
doctors that are carving new paths in the field of eye care and transforming the way routine eye procedures are done.