Post Classifieds
Get in on the intramural action now
College offers variety of activities for student involvement
By Collin Giegerich
On September 27, 2018
Intramural season is underway and Kirkwood Community College students are invited to participate.
Kirkwood provides many intramurals that include activities from flag football to laser tag. Registration for these events varies on what sport students want to join.
Brett Baumgart, the head of intramurals, said he encourages students to join. "It's not too late to sign up. Most of them [intramurals], like the one-day tournaments, we'll play at 4:30."
He added that walk-ins are welcomed but it's preferred if students sign up beforehand because they can get alerts when games are canceled or when other events are coming up.
Most of the intramural sports that Kirkwood provides are team based and Baumgart said students don't need a team to sign up for team events.
Baumgart said, "Firstly, you can sign up as a free agent. You put in a description of yourself so people kind of have a sense of what they're picking up."
He also said he encourages people to go to the Rec Center and just play some pickup games with other people as well. This way students can meet new people and possibly create a team out of the people they just played with.
Baumgart said he is happy with the turnout of teams and players this year and "about 12 teams signed up for flag football and has gotten really good turnouts at the one-day tournaments as well."
The good news for students who still want to participate is that there are one-day events still happening. Upcoming events include doubles and singles tennis tournaments on Sept. 25 - 26, slow pitch softball on Oct. 3 and bubble soccer as well as kickball are on Oct. 10. The last day to sign up for the dodgeball and basketball leagues is Oct. 26 and league starts on the 29.
Students can go to kirkwood.edu/intramurals for more information.
Get Top Stories Delivered Weekly
More kirkwoodstudentmedia News Articles
Recent kirkwoodstudentmedia News Articles
Discuss This Article
MOST POPULAR KIRKWOODSTUDENTMEDIA
GET TOP STORIES DELIVERED WEEKLY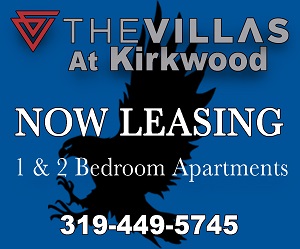 RECENT KIRKWOODSTUDENTMEDIA CLASSIFIEDS
HOUSING

JOBS

FOR SALE

TUTORS
Kirkwood students often admire
Lasik Omaha
doctors that are carving new paths in the field of eye care and transforming the way routine eye procedures are done.