Post Classifieds
Excused time off when sick should be a standard policy
By Staff Editorial
On October 12, 2018
Fall has only just begun, yet illness is already a common topic of conversation and has begun to take a toll on people of all ages.
Radio and TV advertisements for flu shots can be heard, health fairs and reminders are around campus and the rumor mill is already churning with talk of what bugs and sickness will wreak havoc on us this year.
It seems few are lucky enough to get through the fall and winter months physically unscathed and on any given day, it is a gamble as to who will be among the fortunate ones.
For the average individual, the months of the year perceived as cold and flu season bring uncertainty and even stress along with the risk of illness.
Whether one is an employee in the workforce, a college student, a parent or any combination of those roles, the major challenges experienced between the demographics are similar and can be quite substantial, with certain elements being out of an individual's control.
Let's face it: people spread germs to others in a variety of ways so performing daily and necessary routines for survival puts one at risk for getting sick.
Science also tells us that it is not healthy for one to be alone constantly, so the proverbial double-edged sword is cutting some wounds here.
Contact with other people is something that is almost impossible to avoid and unhealthy if pursued too intently so this is one aspect that, as the saying goes, we "suck it up" and understand that is not something that can be controlled.
Good personal hygiene and taking care of oneself can minimize the chances of getting ill but will never fully be eliminated (at least not for our current society).
An assumption can be made that just about everyone has seen someone out and about in public displaying classic signs and symptoms of illness yet there they are: at the grocery store, the gas station, in schools and at work.
Why do people put others at risk instead of staying home and nursing themselves back to health?
Doctors and medical references indicate that staying home and allowing the body time to heal is vital but to be honest, it is safe to assume that everyone reading this knows of at least one person who has had to go out in the world ill when they really should have been home recovering.
Why don't people stay away from the public when they are ill? The simple answer is that not all can afford to. People have lost jobs and had to drop out of classes or scramble to change their academic schedules to accommodate for unexpected illness not only for themselves, but for family members as well.
Since one cannot predict illness it makes it impossible to know if one will be stuck in a compromised situation that can have heavy impact on personal, professional and educational live avenues.
Even here at KCC, there is no standard policy for missing school in relation to being sick. One instructor may allow for exceptions and another may not.
There will always be the argument that abuse of sick policies will always exist however like laws, most people follow the rules as they are supposed to and it's the few "bad apples" that ruin it for everyone else.
The burden of obtaining a higher education can be difficult in and of itself.
A standardized sick policy would take some of the edge off in regards to missing classes and work so proper expectations are set and students can focus on getting well.
Get Top Stories Delivered Weekly
More kirkwoodstudentmedia News Articles
Recent kirkwoodstudentmedia News Articles
Discuss This Article
MOST POPULAR KIRKWOODSTUDENTMEDIA
GET TOP STORIES DELIVERED WEEKLY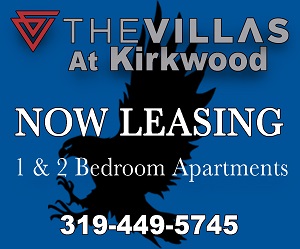 RECENT KIRKWOODSTUDENTMEDIA CLASSIFIEDS
HOUSING

JOBS

FOR SALE

TUTORS
Kirkwood students often admire
Lasik Omaha
doctors that are carving new paths in the field of eye care and transforming the way routine eye procedures are done.