Post Classifieds
Space Force: Protecting from afar needs careful consideration
By Juana Jones
On October 12, 2018
A time not long ago in a city not far away, Donald Trump released his plans to create the sixth armed forces branch, the Space Force.
This announcement brought to light concealed problems the U.S. government will have to solve before making this concept a reality, including issues ranging from how the human body reacts in space to developing a new fighting style that will be effective outside of our atmosphere.
The human anatomy was not made to be in space. When not on our planet, bodily fluids will collect in the top of the body instead of in the legs as it does on Earth. The human body also does not react to change in gravitational fields very well.
NASA stated, "transitioning from one gravity field to another is trickier than it sounds... it affects your spatial orientation, head-eye as well as hand-eye coordination, balance, locomotion, and you're likely to experience motion sickness."
Astronauts train for a long period of time to adjust their bodies and minds to be capable of withstanding the challenges of being in space. This can be a game ender for those who would a part of this program because if something were to happen and they were not able to react in time or not properly trained, it could result in the loss of the crew members.
In addition to the physical stress of being in space, the armed forces will need to develop new ways to fight in space.
The current space shuttle is not made to react in quick responses. In a battlefield, split second movements can be the difference between life and death.
New fighter jets made to work in space would need manufactured. Besides this, new weapons that could fire in the vacuum of space would need to be constructed.
Without an ignition, source bullets will not work and missiles are not the best weapon in a dogfight between ships.
Weapons such as blasters and the Lasan Honor Guard AB-75 Bo-Rifle from Star Wars or the pulse and plasma cannons from Star Trek would need to be made.
The Air Force Space Command was created on Sept. 1, 1982 so while it is not exactly the same as what is proposed currently, there have been efforts in the past to protect United States interests in space.
There have also been many countermeasures to defend against foreign attacks so in retrospect, it seems having military presence outside of our planet is not a new idea but to truly be effective, a lot of planning and development would need to be done to make it feasible and relevant.
Get Top Stories Delivered Weekly
More kirkwoodstudentmedia News Articles
Recent kirkwoodstudentmedia News Articles
Discuss This Article
MOST POPULAR KIRKWOODSTUDENTMEDIA
GET TOP STORIES DELIVERED WEEKLY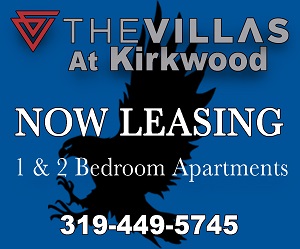 RECENT KIRKWOODSTUDENTMEDIA CLASSIFIEDS
HOUSING

JOBS

FOR SALE

TUTORS
Kirkwood students often admire
Lasik Omaha
doctors that are carving new paths in the field of eye care and transforming the way routine eye procedures are done.