Post Classifieds
Look up, reach out and prioritize personal human needs
By Cheyenne Williams
On October 12, 2018
As students settle in to the fall semester, we start to understand our roles and expectations in and outside of the classroom. However, as we begin to feel comfortable in our conditions, we may realize how disconnected we are from others around us. Here are some ways to connect and feel at home in this new environment.
Greet the people who sit next to you. Be courteous and be willing to listen. If you see them in the hallway, give a wave or smile. Remember that we're all human, and as humans we want to connect and understand one another.
On your way to classes, observe your surroundings. Look at bulletin boards and take note of what information is provided. It's not too late to join clubs. Most clubs meet during activity hour on Tuesdays and Thursdays and are happy to accept new members. Go to http://www.kirkwood.edu/clubs and find out all the clubs Kirkwood has to offer.
If you're having trouble in classes, don't be afraid to ask for help. Kirkwood has several services available to help students. Visit the library and ask librarians for help with assignments. If you've got a long essay you don't know how to start, go to the Writing Center in Cedar Hall. If facing difficulties in one of your classes, contact your instructor. All instructors have office hours available to students and an email to contact them directly. Both should be listed in the syllabus or on EagleNet.
Also, on campus counseling is available to help you adjust. Visit the Dean of Students office in Iowa Hall and ask for assistance. The staff at KCC want to help and want you to do well in your studies. Furthermore, be kind to yourself. Take the time to consider what's bothering you and give yourself praise when you face it.
In the end, remember that we're not alone. Everyone who enters college for the first time is facing the new environment with the same nervousness and trepidation. Others who have been at this longer know what you're going through, and can understand the struggle. Don't be afraid to look to others for guidance.
Get Top Stories Delivered Weekly
More kirkwoodstudentmedia News Articles
Recent kirkwoodstudentmedia News Articles
Discuss This Article
MOST POPULAR KIRKWOODSTUDENTMEDIA
GET TOP STORIES DELIVERED WEEKLY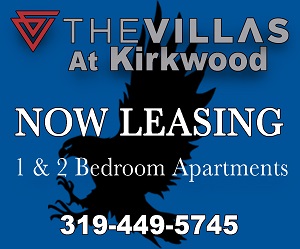 RECENT KIRKWOODSTUDENTMEDIA CLASSIFIEDS
HOUSING

JOBS

FOR SALE

TUTORS
Kirkwood students often admire
Lasik Omaha
doctors that are carving new paths in the field of eye care and transforming the way routine eye procedures are done.