Post Classifieds
Learning Services offers help to a wide range of students
By Amy Wilkie
On October 12, 2018
Living every day with chronic illnesses is challenging enough without adding stressors of academia that makes daily life much more difficult.
I am a fighter of many chronic illnesses who had always thought that I would be too sick for school. Most recently I found out that Kirkwood Community College offers support services that can lend a hand to students, and not just those with a physical disability.
Initially I had thought that I would be entirely on my own to communicate with my instructors about my illnesses and any foreseen absences ahead of time.
"The Americans with Disabilities Act is what helps qualify a student for services, " explained Accommodations Coordinator Amanda Thompson.
"Within that law, a disability is defined as something impacting a person in a major life activity so that could be learning, working or just about any number of things... a learning disability would qualify an individual to receive services from us but also students with mental health issues as well as chronic illness which requires regular treatment and/or impacts their classes such as migraines," Thompson continued.
To start the process to request assistance, those who had an IEP or Section 504 plan in high school need to submit the forms or if one is working with a medical professional, a letter can be written explaining the diagnosis and how the student is impacted.
"Once the ball is rolling, there are a plethora of ways a student can receive assistance... some of the most common academic accommodations we see are centered around testing and help with note taking but it is based on individual needs," Thompson said.
KCC's support staff and learning services are happy to help anyone that needs assistance, and Thompson noted, "If you are not sure, come in and ask or take a look at our website." Information can be found at www.kirkwood.edu/learningservices.
Get Top Stories Delivered Weekly
More kirkwoodstudentmedia News Articles
Recent kirkwoodstudentmedia News Articles
Discuss This Article
MOST POPULAR KIRKWOODSTUDENTMEDIA
GET TOP STORIES DELIVERED WEEKLY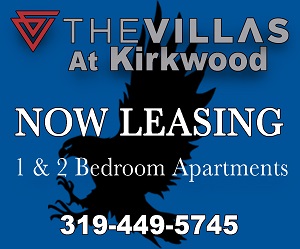 RECENT KIRKWOODSTUDENTMEDIA CLASSIFIEDS
HOUSING

JOBS

FOR SALE

TUTORS
Kirkwood students often admire
Lasik Omaha
doctors that are carving new paths in the field of eye care and transforming the way routine eye procedures are done.