Post Classifieds
Potential should be gauged by more than letters of the alphabet
By Ryan Cronbaugh
On October 12, 2018
Does a grading system made of letters on paper really define how smart someone is? I once heard my Spanish teacher in high school say something on the lines of, "some of my best Spanish speaking students get Cs." It would seem that some students and even teachers understand that grades alone don't define intelligence.
In a perfect world, instructors would be able to teach in a way that every student would understand. Sometimes, there is too much focus on earning a certain grade so if one is simply memorizing information and stressing out, are they really learning?
The SAT/ACT tests are a good example of high pressure testing. There is the perception that so much of one's future relies on a single day. The preparation one puts into it and the stress of the day of the test can be chaos.
One day seems to count so much but does one test do you justice?
Different grading scales can also impact understanding. Others in your life may not be happy with the results so there is the debate on whether or not the whole process was worth the time invested.
It would be safe to assume that most parents care about their child's success in school and getting good grades, so that is added pressure. There are some who will restrict privileges if certain grades aren't achieved. It is understandable that parents want their children to succeed but is it worth it if the child is only doing something to please their parents?
This is not encouragement to not make your best effort or study for that upcoming exam. Just remember that grades alone do not define someone as a person. While important, they do not determine one's whole life.
Get Top Stories Delivered Weekly
More kirkwoodstudentmedia News Articles
Recent kirkwoodstudentmedia News Articles
Discuss This Article
MOST POPULAR KIRKWOODSTUDENTMEDIA
GET TOP STORIES DELIVERED WEEKLY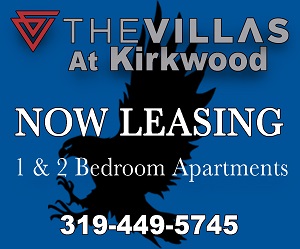 RECENT KIRKWOODSTUDENTMEDIA CLASSIFIEDS
HOUSING

JOBS

FOR SALE

TUTORS
Kirkwood students often admire
Lasik Omaha
doctors that are carving new paths in the field of eye care and transforming the way routine eye procedures are done.