Post Classifieds
Luck o' the Irish for Kirkwood students studying abroad
By Christina Uptain
On October 24, 2018
This past July marked the eighth year that Kirkwood Community College students have traveled abroad to Ireland, however this time around represented a unique trip above and beyond the study of culture and history.
English professor Marianne Taylor and History professor David McMahon spearheaded the trip.
For Taylor, this marked her third year traveling abroad with students and said it was a special few weeks for her on a personal level.
"I love to travel and took the opportunity to join this team when it was presented... for this trip, it was very significant to me not only for the historic value but also for memory sake, since I was in the very same places many years ago as an undergraduate student studying abroad," Taylor said.
"We started off in Dublin on the Eastern coast, then went to this very ancient area called the Hills Terra, where every King of Ireland has gone as part of their rite of passage," Taylor explained.
"Michael Gibbons was our primary guide, who is phenomenal and famous internationally in many areas... he has his own theories as to why we should not visit or disturb the area, but his friend had a dig at Newgrange Farm, so we were invited to join to present an opportunity he knew the students would enjoy," Taylor said.
"Little did we know that because of abnormal droughts in the area, a drone had been sent up approximately three weeks before we were there and they were able to see the bones of the structure that appeared to be some sort of pathway into a ritual area... the very ground we were walking on was a significant part of what could normally not be seen due to rainfall in the area," stated Taylor.
"Suddenly this news is all over, even in the New York Times and it was like, 'We were just there, in the middle of it.' We were right on the site and at the dig and there had not been any other students or groups at the dig to that point. We got to go because Michael was working with someone and he invited us to join, which was special," Taylor explained.
"About a week and a half later while visiting the West coast, there was an area that when the tide was low, we were able to explore ancient trash heaps... One would normally see lots of shells and shards, but one student was on a mission to find something interesting and she did," Taylor stated.
She spoke of Lauren Messer, a Kirkwood 2017-2018 alum now studying archaeology at the University of Iowa. While looking for sea glass, Messer found what Gibbons identified as a piece of pottery.
According to Taylor, Gibbons was thrilled that something significant was found as he himself claims to have never found anything so rare, despite multiple trips to the area and always taking the time to thoroughly poke around.
Gibbons believes the pottery, which was amber in color and about the size of the palm of a hand, is most likely from the 15th century.
The discovery was sent in to the Irish National Archaeological Museum to be cataloged, ensuring its existence and cementing Messer's name in history.
KCC students of any major who have met course requirements are eligible to travel abroad to Ireland and it will satisfy the humanities requirement with a total of six credits earned from the trip. "We have tech students, Ag students, dental techs, you name it... there is no individual program requirement," Taylor said.
Get Top Stories Delivered Weekly
More kirkwoodstudentmedia News Articles
Recent kirkwoodstudentmedia News Articles
Discuss This Article
MOST POPULAR KIRKWOODSTUDENTMEDIA
GET TOP STORIES DELIVERED WEEKLY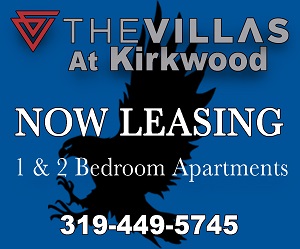 RECENT KIRKWOODSTUDENTMEDIA CLASSIFIEDS
HOUSING

JOBS

FOR SALE

TUTORS
Kirkwood students often admire
Lasik Omaha
doctors that are carving new paths in the field of eye care and transforming the way routine eye procedures are done.