Post Classifieds
Grab n' go grub doesn't mean weighing down the day
By gabriel carlson
On October 25, 2018
Pizza, pasta, sandwiches, burgers and fries are among food items that typically come to mind when one thinks of the average American college student's diet.
The Kirkwood Café in Iowa Hall seems to offer all the regular fare and then some. If one is watching what they eat, some of those options are not the best of choices but don't fret just yet.
Café manager Justin Clark recommended to eat from the salad bar or the burrito station for the healthiest options, and pointed out that fresh ingredients are used at every station.
There are also soups available daily which can provide a hearty meal without a ton of calories, and warm up bodies on the cold days that are setting in and will be here to stay before too long.
Although the tastiest foods might not be the best for you, it's good to remember there are plenty of healthy options available on campus. Music major Juan Rodriguez admitted he knows the healthiest food option is the salad bar, but he prefers to eat pizza and drink pop.
No blaming him there, that's for sure. Eating on the lighter side tends to be more expensive while fats and sugars tend to satisfy and are readily available as well as advertised.
It's important to not only be aware but also make the effort to bypass the tempting and often convenient food that is not healthy. It may take a little bit more planning and consciousness but it will be worth it in the long run.
Many nutrition resources agree that making simple changes is a smart place to start. Good habits start with small decisions, such as water instead of sugary drinks or having a salad instead of fries.
Over time, you might notice you feel better and have a bit more energy when eating healthy. Even when you do choose to splurge, have something more nutritious to balance it out. Food is energy to keep the body going so, simply put, food is our fuel.
Sure, some meals taste better than others, but most times your stomach gets rumbling more than your taste buds are tingling. Remember there's plenty to choose from at the Café, and if you want to eat healthier, it just takes a little bit of discipline and effort.
Get Top Stories Delivered Weekly
More kirkwoodstudentmedia News Articles
Recent kirkwoodstudentmedia News Articles
Discuss This Article
MOST POPULAR KIRKWOODSTUDENTMEDIA
GET TOP STORIES DELIVERED WEEKLY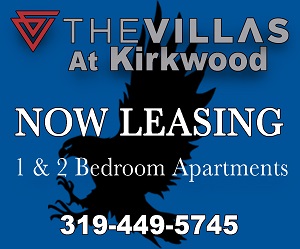 RECENT KIRKWOODSTUDENTMEDIA CLASSIFIEDS
HOUSING

JOBS

FOR SALE

TUTORS
Kirkwood students often admire
Lasik Omaha
doctors that are carving new paths in the field of eye care and transforming the way routine eye procedures are done.