Post Classifieds
Welcome to the family
Presidential inauguration marks new beginning in college history
By Christina Uptain
On November 8, 2018
On Nov. 6, Kirkwood Community College was abuzz for something other than being a local polling place on a pivotal Election Day.
The Hotel at Kirkwood played host to esteemed guests including the board of trustees and alumni as well as present and past faculty, staff and students for the inauguration of the college's new president, Dr. Lori Sundberg.
Exactly one year prior to the ceremony, Dr. Sundberg began the journey that would start with an interview and lead to her making history on campus as the first female president. The late afternoon festivities began with a processional through the ballroom as the Kirkwood brass ensemble played "Aida" by Giuseppe Verdi.
Master of Ceremonies and Vice President of Academic Affairs Dr. Bill Lamb welcomed everyone then the KCC concert choir performed under the direction of Dr. Fred Kiser. Board Chair Jim Mollenhauer spoke on behalf of the board of trustees, citing the significance of the event as, "a great day for Kirkwood Community College… Dr. Sundberg is only the fifth president in the school's history so events like this do not happen often on our campus."
Mollenhauer continued, stating he was inspired by the collaboration of the community and KCC students, faculty and staff, "for being such a dedicated group of individuals who deeply care about this college and the seven-county area it serves… because we know we are involved in something incredibly meaningful."
Rich Underwood, Kirkwood Faculty Association chair elect and 32-year faculty veteran stood next at the podium. He vocalized his gratitude to be a part of, "the growth of this institution to become one of the leaders not only in the state of Iowa but nationally as well."
Underwood encouraged Dr. Sundberg to embrace the concept of family as he and many others have by, "working together and listening to each other, so we continue to make Kirkwood a leader both in and out of the classroom."
Liberal Arts/Health Services major Taylor Loew spoke on behalf of the students, also agreeing that the feeling of home, sincerity and personal attention received on many levels were the key pieces of her admiration for and success at Kirkwood.
"Now that President Sundberg is here, I know this college has found the right leader to take it into the future… a new president means a new perspective and that means the college I know and love will only get better," Loew said.
Teri Copler, a partner at TrueNorth Companies, represented the alumni as a graduate of the class of 1980 and credited the college for the vital role it played in her obtaining her achieving her goals. Copler also expressed her pride that as the first female president, Dr. Sundberg will be a leader who continues to break gender barriers and encourage others to stand strong in the face of adversity.
"If her career path is any indication of what's to come, I expect exciting things for this college in the near future and beyond… I can't wait to see what President Sundberg can do," Copler told the audience.
The keynote speaker for the event was Dr. Christine Sobek, who is not only the president at Waubonsee Community College but is also a former colleague and long-time friend of Dr. Sundberg. Sobek spoke of personal and business ties that forged not only her relationship with KCC's president but also grew her appreciation and admiration for the college and community.
"When Lori shared with me she had been selected for this job, I was absolutely thrilled because I knew she was coming to a marvelous place, a marvelous community and I knew that Kirkwood was receiving an excellent leader who would who will take Kirkwood and this community to an outstanding future," said Sobek.
The Presidential Medallion was presented to Dr. Sundberg by Mollenhauer with Lamb narrating its meaning and purpose, which is the shared relationship between the president and the board of trustees.
Wearing the medallion around her neck, President Sundberg thanked the audience and speakers as well as her family, friends and colleagues before settling into her inaugural speech. "Kirkwood is a remarkable institution and I want to build upon the foundation that has already been laid... I am deeply honored to stand before you today and I pledge to all of you to lead this award-winning institution to even greater heights through my commitment to integrity, transparency and excellence," Sundberg said.
Sundberg spoke of her goals and efforts that are already in motion for making as college accessible, affordable, seamless and successful for as many as possible. "As I look to the future at Kirkwood, I am inspired by what I see… under my leadership I know we will continue our legacy because that is what it means to be Kirkwood and there is nothing we can't accomplish together," Sundberg said in closing.
The conclusion of the event consisted of final remarks by Lamb, a recessional parade and fellowship in the atrium.
Get Top Stories Delivered Weekly
More kirkwoodstudentmedia News Articles
Recent kirkwoodstudentmedia News Articles
Discuss This Article
MOST POPULAR KIRKWOODSTUDENTMEDIA
GET TOP STORIES DELIVERED WEEKLY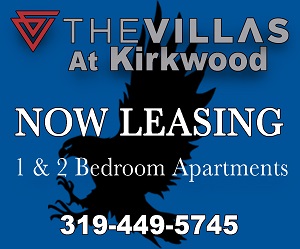 RECENT KIRKWOODSTUDENTMEDIA CLASSIFIEDS
HOUSING

JOBS

FOR SALE

TUTORS
Kirkwood students often admire
Lasik Omaha
doctors that are carving new paths in the field of eye care and transforming the way routine eye procedures are done.