Post Classifieds
Art museum features Iowa artists
By Mitch Grauberger
On November 12, 2018
In the heart of downtown Cedar Rapids sits the Cedar Rapids Museum of Art (CRMA). This museum, established in 1905, is home to many galleries featuring pieces by artists all over the world, with a focus on Midwest art.
"We always have our permanent shows that showcase Grant Wood, Marvin Cone, Mauricio Lasansky and our Ancient Rome exhibition, those typically don't change a lot," said Erin Thomas, education director for the CRMA.
"We also have an incredibly high number of other Iowa artists or Midwest artists in our collection," she added.
Other current exhibits at the CRMA include "One Man, One War, One Hundred Years," which contains a body of work by Iowa artist Michael Wilson, focusing on his great-uncles experiences during World War One; "Flight Pattern: Birds in Art," "Malvina Hoffman: A Sculptor's Journey" and "If We Ran the Zoo: Animals in Children's Book Illustration."
The pieces in "If We Ran the Zoo" aren't owned by the CRMA.
Thomas explained, "The collection actually belongs to the Cedar Rapids Public Library, their children's librarian back in the sixties, Evelyn Zerzanek, started a collection of children's book illustrations. She started a campaign writing to children's authors and illustrators asking for donations of doodles, or samples from their books, or what have you, as a way to encourage children to read."
She continued, "The museum took that collection in because the library didn't have a facility to curate it. In exchange for housing it and curating it and making sure it doesn't get damaged, they allow us to do an exhibition of those pieces every two to three years."
All Kirkwood Community College students get free admission to the museum by showing a current EagleCard but free admission isn't the only reason Thomas said students should come to the CRMA.
"I think it's beneficial for them because it makes them a more well-rounded human being. If you learn to appreciate art, it helps with critical thinking skills," commented Thomas.
She added, "We have creative writing classes come in and students will pick a piece that's on display and sit down in the gallery and write about it. We have, obviously, art students come in and sketch, or make plans for their own art inspired by what they see in the galleries…STEM classes come in all the time and we talk about math, the golden ratio, we talk about recycling and the science behind how the colors work."
Thomas added that the Grant Wood Studio, located a few blocks from the CRMA and open on weekends, is always free to everyone. "It's kind of a hidden gem because people don't realize it's free. It itself, as well as this [the CRMA] building, both are works of art, as well as what's inside them.
For more information on the Cedar Rapids Museum of Art, visit www.crma.org.
Get Top Stories Delivered Weekly
More kirkwoodstudentmedia News Articles
Recent kirkwoodstudentmedia News Articles
Discuss This Article
MOST POPULAR KIRKWOODSTUDENTMEDIA
GET TOP STORIES DELIVERED WEEKLY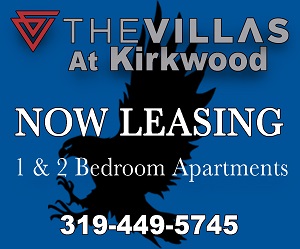 RECENT KIRKWOODSTUDENTMEDIA CLASSIFIEDS
HOUSING

JOBS

FOR SALE

TUTORS
Kirkwood students often admire
Lasik Omaha
doctors that are carving new paths in the field of eye care and transforming the way routine eye procedures are done.