Post Classifieds
Learn how to balance priorities
Staff Editorial
On October 13, 2011
Kirkwood Community College is rich with a vast diversity of student types. One of Kirkwood's greatest strengths is that whether you're a recent high school graduate, working parent or career rebooter, chances are you'll be able to find a schedule to fit a lifestyle that is full to bursting. Yet, despite different needs, one thing we students all have in common is that we aspire to improve our lives.
Unfortunately, the struggle to balance school with the myriad demands of everyday existence can directly affect grades. The U.S. Department of Education suggests that in order to succeed in college, a student ought to spend two to three hours in study time outside class for every lecture hour spent in class. For the average full-time student taking 12 credit hours, the amount of time spent each week on school would equal approximately that of a full-time job. Those already working full time or with families to care for might consider this next to impossible.
The study time is both an average and a suggestion. There is no official authority banging some gavel of doom demanding that you cannot be a 4.0 student and have three kids and a part-time job. The figure is meant to encourage a healthy respect for the goal you are trying to achieve -- an education. It also provides a standard by which to compare priorities.
Colleges measure success in your grade point average. And a GPA can affect not only the amount of financial aid you have the potential to receive while in school but can also influence an employer's decision to hire you and how your salary is negotiated. These benefits are not abstract possibilities; they directly affect the life we are trying to improve.
That said, a priority is a priority. They are different for all of us, with no clear-cut rights or wrongs. Your family, your hobbies, your finances, your GPA all fall into place in a list of importances whether you realize it or not. The choice to give one more weight over the other is up to you.
A less-than-perfect GPA is not the end of the world. You will not automatically fail a course because you averaged one hour of homework a week.
However, the potential benefits of spending more time studying warrant your attention. If you find you are struggling with grades, take a closer look at your efforts. If you're sailing merrily along, keep sailing. Do what works for you.
Get Top Stories Delivered Weekly
More kirkwoodstudentmedia News Articles
Recent kirkwoodstudentmedia News Articles
Discuss This Article
MOST POPULAR KIRKWOODSTUDENTMEDIA
GET TOP STORIES DELIVERED WEEKLY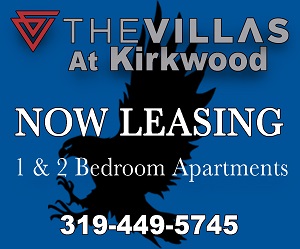 RECENT KIRKWOODSTUDENTMEDIA CLASSIFIEDS
HOUSING

JOBS

FOR SALE

TUTORS
Kirkwood students often admire
Lasik Omaha
doctors that are carving new paths in the field of eye care and transforming the way routine eye procedures are done.