Post Classifieds
Eagles endure the final stretch
By Matt Rittenhouse
On March 7, 2014
No. 42 Joseph Tagarelli shoots an off-balance shot in overtime of the first round playoff game against NIACC on Tuesday, March 4. Marcus Schupp

Members of the crowd showed their support for Eagles basketball on Tuesday, March 4. Marcus Schupp
The Kirkwood Eagles men's basketball team advanced to the second round of the NJCAA regional's on March 4 in overtime against North Iowa Area Community College (NIACC). The final score was 75-71.
JC Fuller finessed his way to the basket racking up 21 points. He got the job done with fancy finger rolls, lay ups and contested jumpers. He also hit eight of nine from the free throw line. He capped off his game with 5 assists.
Ajay Lawton was the feed machine throughout the game. He had 11 assists, leading the team in that category. He also had 3 rebounds, 1 block and 2 points to round off his stats.
Joseph Tagarelli played a great game getting tally marks in every category. He managed 20 points, 3 blocks, 2 assists, 2 steels, and 13 rebounds.
Jalen Currie was a show stopper accumulating 16 points, 2 from a power house two-hand jam.
He also polished glass ripping down 9 rebounds being second behind Tagarelli in that aspect of the game. Currie made everything he did look easy.
Taylor Olson coming off the bench played spectacular. He was perfect from the free throw line and nailed 4 of 7 from beyond the arc totaling 16 points.
Credit was due to NIACC for being able to rack up 19 transition points to Kirkwood's 10. They led the turnover margin forcing 13 to Kirkwood's 12.
Kirkwood's strength was making free throws as well as playing tough in the paint forcing shots to come up short. As a team they shot almost 91 percent from the foul line.
In overtime Kirkwood had the lead 73-71 with just under a minute to play.
For NIACC David Humphries had a chance to tie it up getting sent to the line with 31 seconds left. He missed his first opportunity and Kirkwood grabbed the rebound. The Trojans needed to foul as they ran out of options in the closing seconds and Tagarelli put the game away hitting both of his opportunities from the line.
The excitement roared through Johnson Hall as Kirkwood pulled off the exciting victory in dramatic fashion to advance the team to the second round of regional's. The game will be hosted by Iowa Central in Fort Dodge on Thursday, March 6, at 7 p.m.
Get Top Stories Delivered Weekly
More kirkwoodstudentmedia News Articles
Recent kirkwoodstudentmedia News Articles
Discuss This Article
MOST POPULAR KIRKWOODSTUDENTMEDIA
GET TOP STORIES DELIVERED WEEKLY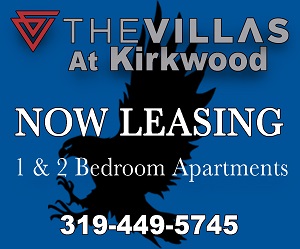 RECENT KIRKWOODSTUDENTMEDIA CLASSIFIEDS
HOUSING

JOBS

FOR SALE

TUTORS
Kirkwood students often admire
Lasik Omaha
doctors that are carving new paths in the field of eye care and transforming the way routine eye procedures are done.