Post Classifieds
Patrons pack hotel to see former Packer
By Ellen McCauley, news editor
On March 7, 2014
Former NFL player Jerry Kramer spoke at the Kirkwood Center on Feb. 22. Lindsey Scott
Former right guard for the Green Bay Packers, Jerry Kramer, visited the Hotel at Kirkwood Center on Feb. 22 for the Lions Club Gala. He shared stories about his career and working with coach Vince Lombardi.
During the 1967 championship game between the Green Bay Packers and the Dallas Cowboys, later remembered as the Ice Bowl, Kramer said he recalled the speculation that the game would be canceled. According to Kramer, it was around 14 degrees below zero but felt like 49 below zero with the wind chill when the team arrived at Lambeau Field.
"We were kind of milling around the locker room, waiting to find out what's going to happen," Kramer said. "Coach Lombardi is trying to reach the commissioner and after about half an hour he reaches him. 'We're gonna play the game, let's get ready.'"
During that game, Green Bay struggled to gain any yardage against the Cowboys. According to Kramer, they later found that in the 31 plays before their game winning drive, the team had lost nine yards.
"You struggle with words to explain what it was that gave you that ability to go down that field and score, how it changes your performance and changes everybody," Kramer said. "Certainly there's a lot of Lombardi in that: Preparation, commitment, consistency, discipline, pride, character, endurance. But ultimately all those things describe the will and it was simply the will to win, the will to excel on that particular day."
Kramer described that moment and that drive as his proudest moment as a Green Bay Packer. According to Kramer, the drive was a moment that particularly speaks out to the team, while the media and fans find the block he made during the drive more influential.
"It's a particular example of what each and every one of us is capable of if we can harness that energy, that power, that focus but ultimately it's all will," Kramer said. "I focus on the team and that drive and if anybody ever wants to know what we were all about, I tell them that story."
Kramer wrote four books trying to explain what it was like working with Lombardi. He said, in short, Lombardi was very much like a father to the team.
"He [Lombardi] had grown up in difficult times and figured out how to win," Kramer said. "He figured out how to get emotionally involved, intellectually involved and that you had to put your mind, body, heart and soul into your efforts. And if you want to coast, go somewhere else and coast. We're not going to coast here, we're going to perform here."
Get Top Stories Delivered Weekly
More kirkwoodstudentmedia News Articles
Recent kirkwoodstudentmedia News Articles
Discuss This Article
MOST POPULAR KIRKWOODSTUDENTMEDIA
GET TOP STORIES DELIVERED WEEKLY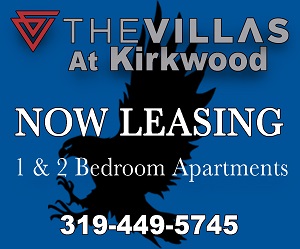 RECENT KIRKWOODSTUDENTMEDIA CLASSIFIEDS
HOUSING

JOBS

FOR SALE

TUTORS
Kirkwood students often admire
Lasik Omaha
doctors that are carving new paths in the field of eye care and transforming the way routine eye procedures are done.