Post Classifieds
Digital divide closing for textbooks
By Leah Coffman
On February 25, 2013
Heavy textbooks weighing down a backpack may soon be a thing of the past. Instead of carrying a heavy bag to classes, students may soon only need their iPad, Kindle, eReader or laptop.
Amazon's Kindle has apps for PCs, tablets and smart phones in addition to its eReader format. Google's GoogleBooks has similar accessibility on PCs and mobile devices and Apple's iBookstore also has a large and growing number of digital textbooks.
Many physical textbooks also already have digital components or compatriots. McGraw Hill's Connect service offers digital copies of the physical textbooks, as do CengageBrain and CourseMate. Such services often allow online access as part of the purchase of the textbook through an access code.
Apple's iBook Author feature also allows publishers to create books for the iPad. Several prominent publishers such as McGraw Hill and Pearson have created Multi-Touch textbooks for the iPad.
Between the many available digital textbook retailers and the multitude of available platforms for them, textbooks are now available far more universally than the traditional print format and without the inconvenience of one or several weighty books.
Students with a few moments to spare can read a chapter on their phones or do their homework on their tablets without the inconvenience of juggling textbooks and notebooks. Universal availability, particularly across multiple devices, is vastly important in the success of digital textbooks.
The pricing of digital textbooks is also a major advantage over the traditional paper format. Amazon's Kindle marketplace advertises saving up to 60% on purchasing eBooks and 80% on rental. Apple's iBookstore similarly offers education pricing for college students. The lower prices on textbooks are an important money saver for students and can help offset the burden of student loan debt. The affordability of digital textbooks alone makes them an appealing option in a world of deepening student debt and high tuition prices.
However, before digital textbooks can truly compete with physical books, the interactivity level needs to grow.
While features such as highlighting are available on Kindle and iBooks, physical textbooks are easier to flip through quickly, particularly in classes that do not follow the exact progression of the text.
In addition, it can be easier to remember approximately where in a physical book a piece of information is located, particularly when looking for a vague concept instead of a specific term that can be searched.
In addition to navigation issues, there are personal accountability issues with the use of digital textbooks. While digital formats offer connectivity and universal availability, there is also more room for students to ignore in-class activities while on a laptop or other device. Students may be able to waste class time playing games, sending e-mail or checking Facebook instead of paying attention. Being responsible may be a struggle but it far outweighs your best friend's cousin's break up.
However, technological progress should not be hindered by these concerns. Navigation issues will improve as more publishers design textbooks deliberately for digital formats. As for the potential for distracted students, collegiate level studies should be met with an expectation for personal responsibility.
Get Top Stories Delivered Weekly
More kirkwoodstudentmedia News Articles
Recent kirkwoodstudentmedia News Articles
Discuss This Article
MOST POPULAR KIRKWOODSTUDENTMEDIA
GET TOP STORIES DELIVERED WEEKLY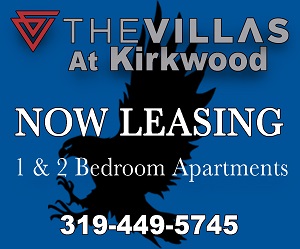 RECENT KIRKWOODSTUDENTMEDIA CLASSIFIEDS
HOUSING

JOBS

FOR SALE

TUTORS
Kirkwood students often admire
Lasik Omaha
doctors that are carving new paths in the field of eye care and transforming the way routine eye procedures are done.