Post Classifieds
Love Bites
Undead twist on classic tale
By Jessica Duling
On February 25, 2013
Love, laughs and zombies? It may not be a typical romantic comedy but "Warm Bodies" creates something truly unique in its undead take on an immortal love story.
Directed by Jonathan Levine (50/50), "Warm Bodies" follows the story of R (Nicholas Hoult), a zombie who wanders aimlessly around an airport and can only remember that his name started with an R in his past life. His whole world gets turned upside down when he meets Julie (Teresa Palmer), the daughter of a post-apocalyptic general. R rescues Julie from a pack of zombies and quickly falls in love with her.
This forbidden love sparks something inside R and causes him and others to start changing. As R and Julie's unconventional Romeo and Juliet romance blossoms, they have to tackle obstacles from both the living and the undead.
"Warm Bodies" is the first film of the zombie genre to give the audience the zombie's point of view. It uses this fresh take instead of the typical and overused grunting, brain hungry zombie tropes familiar to audiences. It is refreshing to finally have a movie like this, one that almost is deserving of its own classification.
I'll admit that I was skeptical at first because some of the scenes seemed cheesy and overused, such as a play on the famous balcony scene. But I realized that the cheesiness is almost what makes "Warm Bodies" so great as it lovingly pokes fun at a classic.
However, R and Julie's violent delights have violent ends in a few brutal scenes, which is exactly what I want from a zombie movie. This paired with hilariously awkward scenes, ridiculous funny one-liners and an immortal, or at least undead, forbidden romance makes this film worthy of a cult following.
Get Top Stories Delivered Weekly
More kirkwoodstudentmedia News Articles
Recent kirkwoodstudentmedia News Articles
Discuss This Article
MOST POPULAR KIRKWOODSTUDENTMEDIA
GET TOP STORIES DELIVERED WEEKLY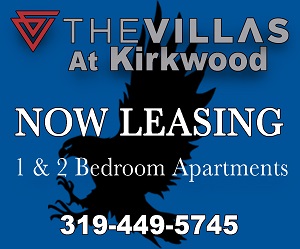 RECENT KIRKWOODSTUDENTMEDIA CLASSIFIEDS
HOUSING

JOBS

FOR SALE

TUTORS
Kirkwood students often admire
Lasik Omaha
doctors that are carving new paths in the field of eye care and transforming the way routine eye procedures are done.