Post Classifieds
International experience key for personal growth during college
By Staff Editorial
On February 25, 2013
The world is getting smaller. Exchanges across continents, countries and cultures are as easy as turning to another student in class.
Students from more than 100 countries attend Kirkwood Community College. They trek across the same snow-streaked parking lots and share the same experiences. They prepare reading responses and complete math assignments. They eat in The Café and attend basketball games. Despite the wide variety of backgrounds, there is common ground for understanding and personal growth.
Modern America is a melting-pot of influences from many cultures and nations. America's diverse cultural influences are able to interact and grow together in an ever-globalized atmosphere.
Some bemoan this trend and make grim predictions about the end of days but doom and gloom notwithstanding, most citizens of the world look on each other with curiosity. Reacting with interest instead of suspicion to the new experiences and opportunities of globalization will increase ties in classrooms and across borders.
The interactions of different cultures and viewpoints anywhere can cause friction, even when occurring between those of shared nationalities. A student's life inside and outside of the classroom will be more pleasant when more attempts are made to engage with others.
Discovering and appreciating differences is far more rewarding than arguing about cultural norms. Rather than relying on assumptions, take the opportunity to ask questions. Why not get the fuller picture from someone who has the benefit of first-hand experience instead of prejudging?
Take time to become familiar with other cultures with a respectful and open mind. While doing so can be challenging, venturing into the world has never been more possible. An international experience can be richly rewarding and can lead to more intercultural exploration and understanding.
Opportunities to enrich our lives and those of others around us are omnipresent. Collaboration across borders, made possible within our own libraries, buildings and cafeterias, is very possible and ever-fruitful. The variety and breadth of culture available at Kirkwood, through its international connections, allows students to explore aspects of every continent while expanding worldviews.
The availability of the multicultural and international experiences at Kirkwood is an opportunity not to be missed. Students from every walk of life and continent interacting and exploring each others' lives will go far toward creating a more tolerant and respectful world.
These opportunities should be met with respect, a desire for mutual improvement and a welcoming attitude toward the unfamiliar.
A respectful and interested attitude when engaging across cultures, particularly in a learning environment, will go far toward building bridges between communities.
Get Top Stories Delivered Weekly
More kirkwoodstudentmedia News Articles
Recent kirkwoodstudentmedia News Articles
Discuss This Article
MOST POPULAR KIRKWOODSTUDENTMEDIA
GET TOP STORIES DELIVERED WEEKLY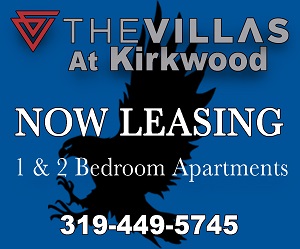 RECENT KIRKWOODSTUDENTMEDIA CLASSIFIEDS
HOUSING

JOBS

FOR SALE

TUTORS
COLLEGE PRESS RELEASES
Kirkwood students often admire
Lasik Omaha
doctors that are carving new paths in the field of eye care and transforming the way routine eye procedures are done.