Post Classifieds
Celebrities get improper attention
By Chelsea Wehrle
On February 10, 2014
It's a new year but not everyone is putting their best foot forward.
On Jan. 23, Justin Bieber was arrested for driving while intoxicated, drag racing and resisting arrest. Judging from Bieber's previous behaviors, his arrest does not prove to be out of character. It can only be added to the end of an ongoing list of questionable actions. Yet the love for the 19 year-old pop star has not diminished.
The singer has appeared in numerous magazines and starred in his own movies, with his feature documentary "Believe" released on Dec. 30, 2013. "Never Say Never" was Bieber's first movie about his career in the spotlight. The heartthrob's boyish yet dreamy vocals intrigued fans from day one. However, over time his image changed from dreamy to bad boy.
The question now is, should fans still be interested in Justin Bieber's continuous bad boy behaviors? Does the public find his mug shot and orange jumpsuit just as appealing as his vocals? All eyes are on celebrities whether their actions are positive or negative. What the world may have forgotten is that despite the connotation of a celebrity's actions, giving their negative behaviors note is still rewarding these people with attention.
Bieber is not the only star to complete actions worth criticizing. The beginning of actress Lindsey Lohan's downfall can be traced back to the year 2007. Lohan's frequent arrests became a joke to the world but citizens would not be laughing if a young adult was drinking and driving in their local areas.
Bieber's DUI arrest should be viewed as a continuation of poor actions from not only him but also from young adults in the media.
The news headlines catching our attention should be of the stories that affect our world and its people. Celebrities' lives can be interesting but should not be considered news.
The spotlight should be given to people who deserve mention and praise, people who will bring new meaning to our world and media. The negative actions of celebrities should be addressed with all seriousness or not addressed at all.
Get Top Stories Delivered Weekly
More kirkwoodstudentmedia News Articles
Recent kirkwoodstudentmedia News Articles
Discuss This Article
MOST POPULAR KIRKWOODSTUDENTMEDIA
GET TOP STORIES DELIVERED WEEKLY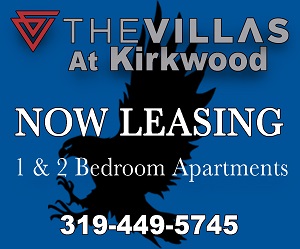 RECENT KIRKWOODSTUDENTMEDIA CLASSIFIEDS
HOUSING

JOBS

FOR SALE

TUTORS
Kirkwood students often admire
Lasik Omaha
doctors that are carving new paths in the field of eye care and transforming the way routine eye procedures are done.