Post Classifieds
Giving blood is giving back
By Staff editorial
On February 10, 2014
One of the easiest ways to give back to the community is to give blood. Not only is it relatively quick but it requires almost no effort on the part of the person donating. Just sit down, squeeze a stress ball and let the blood flow naturally. The exchange rate is relatively low. For one pint of blood a donor usually gets several cookies, a glass of pop or juice and a sticker.
There are many misconceptions about circumstances which make a person ineligible to donate blood. A variety of factors can make a person unsure of their eligibility status, such as foreign travel, tattoos, medications and illnesses or diseases. If students are unsure whether or not they can donate blood they may decide to forgo the opportunity to save lives. While sometimes valid, not every concern renders a person unable to donate.
According to the Mississippi Valley Regional Blood Center (MVRBC) website people can donate blood as soon as 48 hours after taking certain antibiotics. People with colds can also donate if they do not have a temperature and feel well enough on the day of the donation, www.bloodcenter.org reports. The MVRBC also states that certain medications will not result in a deferral from donating.
Potential donors can also donate after getting a tattoo if it was done in a licensed facility. If the tattoo was not done in such a place the person will be deferred for 12 months and will then become eligible to donate blood, according to the MVRBC. After getting a piercing a person may donate if sterile equipment was used MVRBC states, otherwise they will be deferred for 12 months. For a full list of eligibility requirements visit www.bloodcenter.org.
Unfortunately there are some circumstances in which a person should never donate blood. The MVRBC website states that if a person has a blood disease, certain types of cancer, Hepatitis, HIV or Creutzfeldt Jakob Disease they are not eligible to donate blood. Travel to certain countries can also make a person ineligible.
Kirkwood Community College hosts several blood drives throughout the year. If a person is questioning their eligibility they can ask staff any questions they may have. By donating blood a person has the potential to save a life.
Get Top Stories Delivered Weekly
More kirkwoodstudentmedia News Articles
Recent kirkwoodstudentmedia News Articles
Discuss This Article
MOST POPULAR KIRKWOODSTUDENTMEDIA
GET TOP STORIES DELIVERED WEEKLY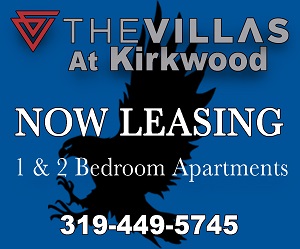 RECENT KIRKWOODSTUDENTMEDIA CLASSIFIEDS
HOUSING

JOBS

FOR SALE

TUTORS
Kirkwood students often admire
Lasik Omaha
doctors that are carving new paths in the field of eye care and transforming the way routine eye procedures are done.