Post Classifieds
A hobby that bites back
Math professor keeps open mind about raising pythons in his basement
By Brandi Ferrell
On October 1, 2012
Members of the jazz combo practicing, from left to right, Ryan DeWit, Avery Karkosh, John Fuoto and Joey Beam. Drake Klemme
You never know what's in someone's basement. You may find skeletons, rats, dilapidated exercise bikes...or 65 snakes.
Dr. David Keller, Kirkwood Community College math professor, bought his first two snakes in 2010 after a friend introduced him to the breed. Despite the many possible risks involved, he said he decided that this was a hobby suited for him. He now shares his home with 65 Ball Pythons.
"What's fascinating to me is the genetic diversity," Keller said. "There are so many combinations that you really get to see the variety of traits come out."
He explained that due to a property called co-dominance, a snake can be born with two different patterns that equally shine out on the snake, creating new and interesting patterns-or morphs-nearly every time.
Keller said they are small constricting snakes and one of the gentler breeds, which make them very good pets.
The snakes are kept in Keller's basement. Each one has been named so that it is easier to keep track of who is who and so that he and his children-Adam and Allison-can make a fun project out of caring for the reptiles.
Keller described the varying colors and sizes of the snakes, stating that in most cases the snakes are measured by weight and not length. His smallest snakes are just babies that weigh about 60 grams each and are only about a foot in length. His largest snake is an albino named Carolina that weighs over four pounds, making it roughly five feet long.
Along with his accumulation of snakes Keller also maintains an impressive collection of tropical fish, with a total number of 18 fish tanks stored alongside his snakes. He said that he primarily breeds Angelfish and Plecostomus right now. This is a hobby that he has maintained for over 15 years.
He is also educated in the art of pet grooming, a skill which he acquired so that he could care for the coats of his two West Highland Terriers, Buster and Daisy. His grooming skills were honed by a series of courses taken at Kirkwood.
"Do something that you love. Don't do it for the money... and don't be afraid to try something different," he said. "You might like it."
Keller began teaching at Kirkwood as a math instructor in 1997. He earned his Master's Degree in Mathematics from Colorado State University. While working at Kirkwood fulltime he began furthering his education at the University of Iowa and earned a PhD in Educational Policy and Leadership Studies in 2011.
Get Top Stories Delivered Weekly
More kirkwoodstudentmedia News Articles
Recent kirkwoodstudentmedia News Articles
Discuss This Article
MOST POPULAR KIRKWOODSTUDENTMEDIA
GET TOP STORIES DELIVERED WEEKLY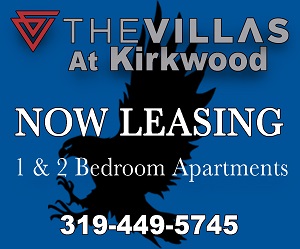 RECENT KIRKWOODSTUDENTMEDIA CLASSIFIEDS
HOUSING

JOBS

FOR SALE

TUTORS
Kirkwood students often admire
Lasik Omaha
doctors that are carving new paths in the field of eye care and transforming the way routine eye procedures are done.