Post Classifieds
KTS student adjusts to unique course format
By Sheridan Moore
On October 1, 2012
Jennifer Fawcett teaches her Forms of Literature. Drama class over the KTS system. Courses taught in the KTS format allow instructors to reach students at Kirkwood's various centers.
Imagine talking to and hearing an instructor over a television screen in a room with fellow students.
Kirkwood Community College offers many distance learning classes. These courses are also referred to as telecommunications system (KTS)classes taught through a visual and audio system provided by the college.
The instructor sits in a class behind a desk and faces two computers in front of him or her. Students use microphones to speak so that students at the other centers taking the same course can hear each other.
The instructor can have the class watch a movie, a lecture or even show the class a page of notes he or she has written.
These differences from a standard class may all seem strange. However, once the class gets underway it is easy to forget all about the television screens and the novelty associated with the class format.
KTS instructors usually teach on main campus but they are also based out of other Kirkwood centers such as Marion or Belle Plaine.
Although KTS was rather new and different to me, I grew to like the format.
The class I took was held on the main campus in Cedar Rapids so my instructor was there most of the time. He often originated from Iowa City as well.
Once I got over the initial awkward feeling of talking into the microphone it wasn't so bad. I enjoyed my class a lot and I'm currently taking another class involving distance learning here on the main campus.
The experience is different from the typical classroom environment because students have to constantly talk into a microphone.
I thought it was going to be hard and stressful but after a while the difference of the class style fades away. I suggest that students who don't mind seeing and hearing their instructor over an interactive television screen in school try taking a KTS class.
Get Top Stories Delivered Weekly
More kirkwoodstudentmedia News Articles
Recent kirkwoodstudentmedia News Articles
Discuss This Article
MOST POPULAR KIRKWOODSTUDENTMEDIA
GET TOP STORIES DELIVERED WEEKLY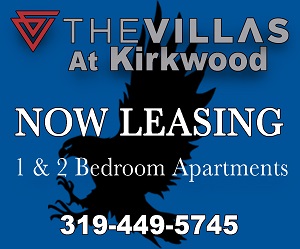 RECENT KIRKWOODSTUDENTMEDIA CLASSIFIEDS
HOUSING

JOBS

FOR SALE

TUTORS
Kirkwood students often admire
Lasik Omaha
doctors that are carving new paths in the field of eye care and transforming the way routine eye procedures are done.