Post Classifieds
Music tradition standing strong
Kirkwood students participate in 13th Annual Blues concert
By Leah Coffman
On October 1, 2012
Leah LeDuc, interior design emphasis, rehearses Bob Dylan's Make You Feel My Love with Jazz Combo I. Dallas Wilcox
Things at Kirkwood Community College are about to get bluer.
On Saturday, Sept. 29, at 7:30 p.m., the Performing Arts Department will continue the tradition of kicking off the arts season with a celebration of the blues. Directed by Tim Feldkamp and hosted by Dennis Green, the concert will feature a wide variety of different ensembles and blues styles. Admission is free for Kirkwood students, faculty and staff.
According to Feldkamp, the jazz department traditionally begins with blues because, "Blues is a precursor to jazz." Blues, while still heavily improvisational in style, has a more formal, three-chord structure than jazz's freer style, making it a good starting point for anyone beginning their study of the art form.
The Kirkwood Jazz Ensemble will begin the evening playing such pieces as the George Gershwin classic, "Summertime" from the jazz opera Porgy & Bess.The piece will feature vocalist Leah LeDuc, performing in a jazz/rock style, as opposed to the more traditional swing jazz that Gershwin favored. While the song remains recognizable as the famous hit, LeDuc and the Jazz Ensemble's rendition has a deeper, more soulful feel.
The concert will also feature performances from three jazz combos, smaller groups of four or five performers. These smaller ensembles are encouraged to think creatively for their programming, playing traditionally rock or funk pieces reinterpreted as blues. A medley based off the Kansas hit, "Carry On My Wayward Son" and an Adele-esque rendition of Bob Dylan's "Make You Feel My Love" show the variety of songs and styles that can be performed as blues. Other pieces include John Scofield's "Chank" and "Tighten Up" by the indie rock group The Black Keys.
The CR Jazz Big Band, a group comprised of students and community members, will close the concert with a series of blues charts, including the classic "Is You Is Or Is You Ain't My Baby", featuring the vocal talents of Marylee Camp.
When asked how it feels to be performing the blues at Kirkwood, Tom Petersen, Liberal Arts emphasis, said, "I love how it just speaks to my soul. It's just chill, easy-going music." Leah LeDuc, Interior Design emphasis, agreed. "It's really relaxing and laid back. It's a sexy way to sing."
Get Top Stories Delivered Weekly
More kirkwoodstudentmedia News Articles
Recent kirkwoodstudentmedia News Articles
Discuss This Article
MOST POPULAR KIRKWOODSTUDENTMEDIA
GET TOP STORIES DELIVERED WEEKLY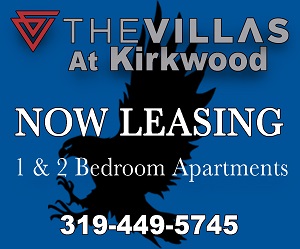 RECENT KIRKWOODSTUDENTMEDIA CLASSIFIEDS
HOUSING

JOBS

FOR SALE

TUTORS
Kirkwood students often admire
Lasik Omaha
doctors that are carving new paths in the field of eye care and transforming the way routine eye procedures are done.