Post Classifieds
The fight for the Iron Throne
Series Review
By Jessica Duling
On April 15, 2013
From relatable comedies like "Girls" and "Sex and the City", to compelling dramas such as "Six Feet Under" and "The Sopranos", HBO has pushed boundaries and changed the face of TV. But few shows have the gravitas and high production values like the recent fantasy drama "Game of Thrones."
Based on the book series "A Song of Ice and Fire" by George R. R. Martin, "Game of Thrones" is set in the mythical land of Westeros where seven noble families, all of whom rule the seven kingdoms, battle each other for the right to the Iron Throne. The most notable of the seven families are: House Stark of the North, House Lannister of the Westerlands, House Greyjoy of the Iron Islands, House Targaryen of the Crownlands, and House Baratheon of the Stormlands.
Created by David Benioff (Troy) and D.B. Weiss "Game of Thrones" is currently in its third season and has already been signed for a fourth.
The series has attracted major stars such as Sean Bean (Lord of the Rings) as Lord Ned Stark, Golden Globe winner Peter Dinklage (Death at a Funeral) as Tyrion Lannister and Lena Headey (300) as Cersei Lannister.
The show has divided critics with its high fantasy and graphic violence. Historians have praised it for its relatively accurate portrayal of medieval societies and its similarities to the 15th century War of the Roses. It also covers fantasy tropes as dragons and other supernatural creatures while closely following the plot of the "Song of Ice and Fire" series.
The third season premiered on Mar. 31. According to Entertainment Weekly,it broke the series record for its most watched episode raking in 4.4 million viewers when it premiered at 9 p.m. and a total of 6.7 million after accounting for reruns.
The season opener fulfilled its high expectations, keeping the audience on the edge of their seats through the introduction of giants late in the episode. A strongly rated season opener bodes well for the coming season.
The series is unlike any other with its gorgeous scenic shots, set designs with impecable detail and a plot that is so enthralling it whisks viewers away to another land.
For those who are not fantasy fans, "Game of Thrones" still does not disappoint.
"Game of Thrones" is not recommended for children as the show contains adult content. There are explicit scenes, nudity, profanity and gore. New episodes premiere every Sunday at 8 p.m. central on HBO or online for HBO Go users.
Get Top Stories Delivered Weekly
More kirkwoodstudentmedia News Articles
Recent kirkwoodstudentmedia News Articles
Discuss This Article
MOST POPULAR KIRKWOODSTUDENTMEDIA
GET TOP STORIES DELIVERED WEEKLY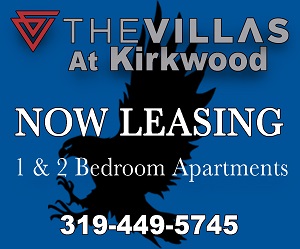 RECENT KIRKWOODSTUDENTMEDIA CLASSIFIEDS
HOUSING

JOBS

FOR SALE

TUTORS
Kirkwood students often admire
Lasik Omaha
doctors that are carving new paths in the field of eye care and transforming the way routine eye procedures are done.