Post Classifieds
Healthy recipes on a college budget
By Kelsey Wood, co-feature editor
On February 21, 2014
Let's face it, being a college student means two things: You're broke and busy. Sometimes eating healthy can be a bit of a challenge. Collegerecipes.com and other popular websites offer many recipes that are quick and easy to make.
In less than 10 minutes, students can make an egg and cheese quesadilla for breakfast. In a frying pan scramble two eggs until cooked, then pour a tablespoon of vegetable oil into a pan and place the tortilla flat inside. Sprinkle cheese evenly on the tortilla and cook until the cheese is melted and the bottom is a golden brown.
Pour the scrambled eggs on top, add more cheese and any other ingredients such as mushrooms, peppers or ground sausage and place the other tortilla shell on top. Flip after about a minute and then cook until the both sides are golden brown. Slide the quesadilla onto a plate, cut and enjoy.
For dinner students could try a low-carb Thai flatbread pizza. Preheat your oven to 375 degrees, then spray non-stick spray onto a baking sheet and place the flatbread on top. Spread a peanut sauce evenly on the flatbread, leaving the edge of the crust free. Add mozzarella cheese, uncooked broccoli, coleslaw mix and shredded chicken breast. Cook for 20 minutes and let cool and cut into 4-6 pieces.
YouTube.com is another popular place to find healthy recipes. In the video "Healthy Snacks for Autumn <3 Delicious!!" by Leopsie, dessert recipes such as pie-less apple pie is provided.
To make the pie place a saucepan on medium heat and add chunks of apple and a handful of raisins and some cinnamon. Cook until the apples are soft, stirring occasionally. Drizzling some honey on top at the end for garnish is optional.
For a heartier recipe try beef tips and noodles from www.allrecipes.com. The items needed for this recipe are one pound sirloin tips that are diced into cubes, one can of condensed cream of mushroom soup, one package of beef with onion soup mix, one can of drained mushrooms, one cup of water and one (16 ounce) package wide egg noodles.
First, preheat the oven to 200 degrees F. After that in a 13-by-9 inch casserole dish, combine the mushroom and beef onion soups, canned mushrooms and water. Mix thoroughly and add beef tips. Put in the oven for one hour.
While that is all in the oven, bring a large pot of lightly salted water to a boil. Add the pasta and cook for 8 to 10 minutes or until tender; drain. Serve beef tips and sauce over noodles.
Get Top Stories Delivered Weekly
More kirkwoodstudentmedia News Articles
Recent kirkwoodstudentmedia News Articles
Discuss This Article
MOST POPULAR KIRKWOODSTUDENTMEDIA
GET TOP STORIES DELIVERED WEEKLY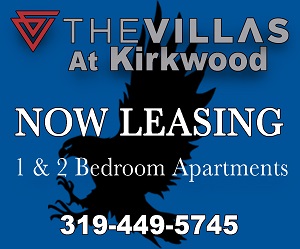 RECENT KIRKWOODSTUDENTMEDIA CLASSIFIEDS
HOUSING

JOBS

FOR SALE

TUTORS
Kirkwood students often admire
Lasik Omaha
doctors that are carving new paths in the field of eye care and transforming the way routine eye procedures are done.