Post Classifieds
Keep the flu away from you
By Chelsea Harman
On February 21, 2014
Sneezing into your elbow is the best way to prevent the spread of germs. Trevor Greenfield

Sneezing into a tissue also helps prevent the spread of germs. Trevor Greenfield

Frequent hand washing is another technique to prevent the spread of germs. Trevor Greenfield
This time of year a late start to the flu season is on the rise for many students, faculty and staff members. Differentiating symptoms between the common cold and the flu can prove to be difficult.
As a registered nurse for 30 years, Bev Riege, program director of Long Term Care at Kirkwood Community College, offered many tips for flu prevention.
Riege said when feeling early symptoms of a cold, staying hydrated is the first step students can take. Staying hydrated by drinking plenty of water is important for the body to fight off viruses. Also drinking hot or cold liquids can help soothe the throat and kill germs and viruses that cannot survive in heat or cold. She added when sick, people should avoid coughing directly into their hands.
"When you're coughing or sneezing, it's those droplets that are the contagion. As long as the droplets stay moist, the virus can live," Riege said.
Coughing into a shirt sleeve is better than coughing into hands, however the best solution is sneezing or coughing into a tissue and throwing it away to prevent the virus from spreading, according to Riege.
One common misconception among people is that it is recommended to starve a fever and feed a cold. Riege stated, "I've heard that for many years. Basically you should eat if you can no matter if you have a fever or not because the body is fighting off whatever is invading it. That's why you get a fever; it's trying to cook those germs and so it takes a lot of calories to keep that body heat up."
Riege added, "[Homemade] chicken noodle soup is good when you're sick because it warms you and gives you calories that you need while the body is fighting off whatever is invading it."
Getting a flu shot is beneficial to health, however be aware that when people get the vaccine they are more susceptible to other viruses and bacteria.
"When you get a vaccine of any kind it stimulates your immune system to start building up immunities. Your immune system is busy building up immunities to whatever you got a vaccine for, so any viruses or bacteria that you are exposed to you are more susceptible to those within the first two weeks," said Riege.
She advised, "If you're sick, stay home. Don't go out in public and pass it on to everyone. I know you probably don't think about that, you think 'Oh they need me at work or I need to go to school', but all you're doing is passing it on to everyone."
Get Top Stories Delivered Weekly
More kirkwoodstudentmedia News Articles
Recent kirkwoodstudentmedia News Articles
Discuss This Article
MOST POPULAR KIRKWOODSTUDENTMEDIA
GET TOP STORIES DELIVERED WEEKLY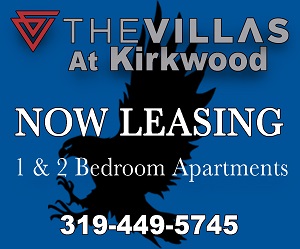 RECENT KIRKWOODSTUDENTMEDIA CLASSIFIEDS
HOUSING

JOBS

FOR SALE

TUTORS
Kirkwood students often admire
Lasik Omaha
doctors that are carving new paths in the field of eye care and transforming the way routine eye procedures are done.