Post Classifieds
Student cast performs Steve Martin play 'Picasso at the Lapin Agile'
Students reflect on experiences with guest director Kathleen Pudzuvelis
By Danielle Coover
On February 20, 2013
"It was fun, overall," said Emily Bartels, who played the countess in the recent performance of "Picasso at the Lapin Agile" at Kirkwood Community College from Feb. 7 - 10.
Set in 1904, the comedy represented the upcoming 20th century featuring Pablo Picasso, Albert Einstein, and a special guest from the future. Throughout the performance Picasso, played by John Miersen, and Einstein, played by Ethan Nelson, argue about which is the true revolutionary but come to learn they are both equally valuable.
Another character, Charles Dabernow Schmendiman, played by Joshua Rouse, proved instrumental in their debates and showed commercialism with his personality that turned out to play an important role in the 20th century. Through several arguments of wit and artistic ability, Picasso and Einstein come to their senses after the guest approaches the men revealing that genius does not just come in one form.
Steve Martin, the well-known actor and comedian, wrote "Picasso at the Lapin Agile". He is well known from his skits on Saturday Night Live and movies such as "Little Shop of Horrors" (1986) and "Father of the Bride" (1992). Martin wrote "Picasso at the Lapin Agile" in 1993. This play was the only script he wrote. It made it's first opening at Chicago's Steppenwolf Theatre, then moved to Boston, Los Angeles and even off-Broadway.
Kathleen Pudzuvelis directed the Kirkwood performance. Pudzuvelis recently retired from Mount Mercy University as associate professor of Speech and Drama. She worked there for 37 years, during which time she wrote two plays.
Bartels commented on her experience working with Pudzuvelis. "A lot of the blocking had to do with...what we wanted. So it was kind of interesting to actually work with a different director," said Bartels.
Along side Pudzuvelis was Shelly Ford, the scenic designer and technical director and theatre instructor, and Annee Noah, Kirkwood's costume designer.
Cast members included Ethan Nelson, Einstein; John Miersen, Picasso; Joshua Rouse, Schmendiman; Lyn-z Harney, Suzanne; Kourtney Milling, Germaine; Emily Bartels, The Countess; Noah Satern, Gaston; Chance Maynard, Freddy; Andrew Burlage, Sagot; Rebecca Mione, the female admirer and Jacob Kostiv, the visitor.
Get Top Stories Delivered Weekly
More kirkwoodstudentmedia News Articles
Recent kirkwoodstudentmedia News Articles
Discuss This Article
MOST POPULAR KIRKWOODSTUDENTMEDIA
GET TOP STORIES DELIVERED WEEKLY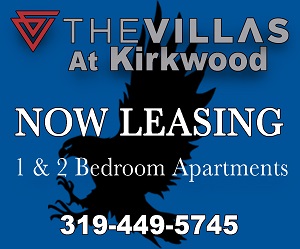 RECENT KIRKWOODSTUDENTMEDIA CLASSIFIEDS
HOUSING

JOBS

FOR SALE

TUTORS
Kirkwood students often admire
Lasik Omaha
doctors that are carving new paths in the field of eye care and transforming the way routine eye procedures are done.